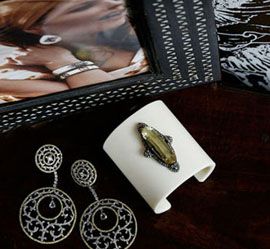 Fine Jewelry:
Can a real luxury lifestyle woman ever know enough makers of original handcrafted jewelry of otherworldly quality? Bochic is a source of fine jewelry for women by designers Miriam Salat and David Joseph. The designing duo's collection of handcrafted earrings, rings, and bracelets are found on the ears, fingers, and wrists of sophisticated and chic women globally.
The impetus of the various handcrafted pieces draw inspiration heavily from both nature and various exotic destinations. There also is more than a dash of natural creativity ebbing and flowing with abundance from within both of these creative outlets.
A star is born? In just three months after its completion, Miriam Salat's first collection was picked up by Barneys. Along with an extensive background in design and business, Mr. Joseph's family owned a jewelry-manufacturing business. Bochic's main showroom is in NYC.

The collections are available online and at exclusive retailers and jewelers worldwide.

Fingered: The wooden ring with a ruby spinel and diamonds rang my wife's bell.