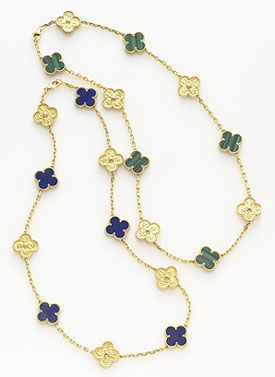 Fine Jewelry:
Seventy years ago, brothers Julien, Claude and Louis Arpels began what would become one of the world's finest jewelry houses, decking out everyone from Hollywood stars to royalty in their designs. In commemoration of their 70th Anniversary, Van Cleef & Arpels has released two new limited edition necklaces.
As part of the most celebrated and coveted Alhambra collection, the designs include a 10 motif Alhambra necklace with clovers in alternating lapis-lazuli and yellow gold, and a 10 motif necklace alternating malachite and yellow gold.
Inspired by designs found in the VCA archives, the designs are both modern, while still winking at old school style and glamour. The Alhambra design has become a timeless classic since its birth in 1968, famous for the four beaded petals of its clover motif symbolizing health, wealth, luck and true love. The Alhambra is said to bring happiness to the wearer.

The collection is limited to 100 exclusive and individually numbered pieces.