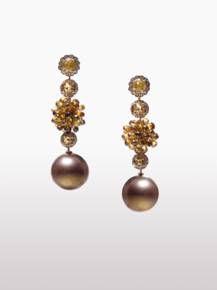 Jewelry & Watches:
Lugano Diamonds
has unveiled their cognac briolette-cut diamond and pearl earrings for fall, priced at $26,800.
Lugano's cognac diamond and pearl earrings are the perfect accessory for special occasions or for a special something in your everyday outfit.
Designed by company President Moti Ferder, the diamond and South Sea Pearl drop earrings are classic Lugano at it's best. Fifteen carats total weight of cognac briolette-cut diamond 'beads' with rough yellow and collection white diamonds are paired elegantly with stunning15 millimeter brown South Sea Pearls, set in 18 karat rose gold.

The earrings are meant for wearing, not for storage in a vault. The carefully crafted design gives the earrings the ability to sway gently when worn. The unique cut of the diamonds makes light shine though, revealing shades ranging from the deepest cognac to amber and ethereal gold. They diamonds are only enhanced by magnificent South Sea Pearls.

The earrings are part of the fall collection from unrivaled and unparalleled Lugano Diamonds.