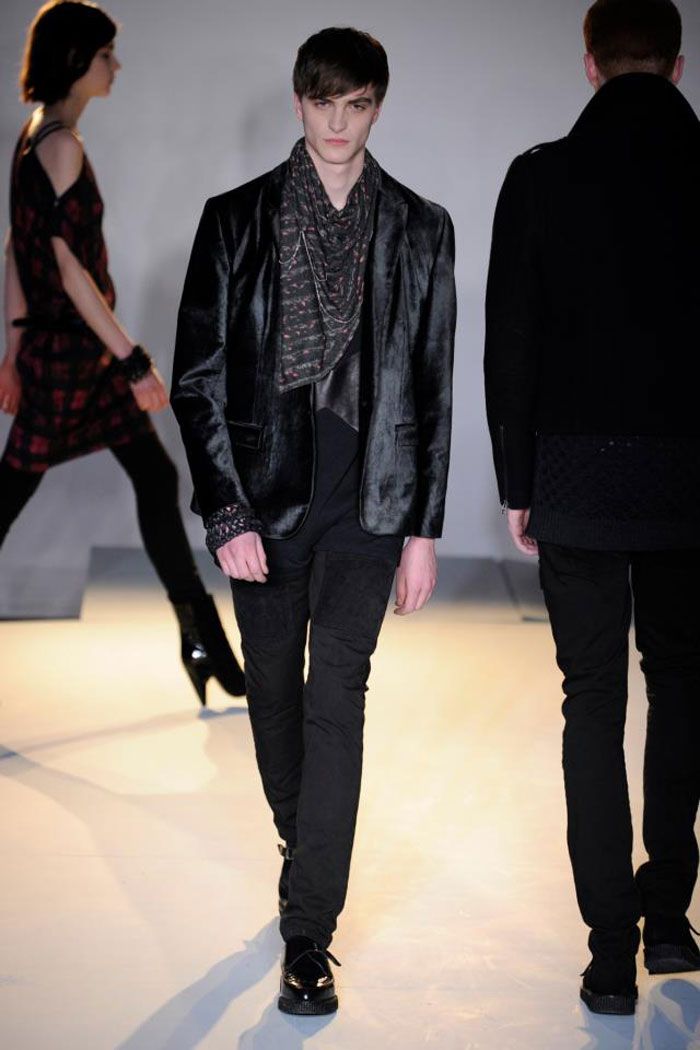 Photos Courtesy of EDUN
Described as a "cocktail" collection (and if that's the case, we will gladly take a drink) by designers Sharon Wauchob and Ricky Hendry of
luxury brand
EDUN, the label's Fall 2013 collection drew inspiration from a variety of different subcultures, including mod, biker and grunge looks. By depicting a range of different scenes and eras, the designs are surprisingly cohesive and ensembles were strikingly put together at the New York Fashion Week runway show.
Dark denim jeans were paired with slim leather motorcycle jackets, black, pointed boots and trendy neck scarves with delicate chain detailing. Really, the only accessory missing from the
EDUN
fall collection is a motorcycle helmet or a
Sons of Anarchy
guest appearance. However, true to the designers' cocktail claim, other runway looks were pulled together with professor-like cropped peacoats to give a somewhat youthful vibe to what would have otherwise been a somber presentation.
Plaid shirts, perforated knits, studded leather linings and one particularly stunning hand-dyed velvet blazer make for a collection worthy of Mick Jager and all of his dance moves. As is the case with many fall lines, there is not a wide range of colors to choose from— but in the words of another music giant, Jay-Z, you really can't go wrong with the "all black everything" ensemble.
Not simply a collection geared towards rock stars and delinquents, the recent EDUN collection has a certain softness that provides a juxtaposition of dark and brooding fashion with approachable style. This contemporary line provides wearable looks that are just as strong and distinguished as EDUN's iconic founder, U2 rocker Bono.