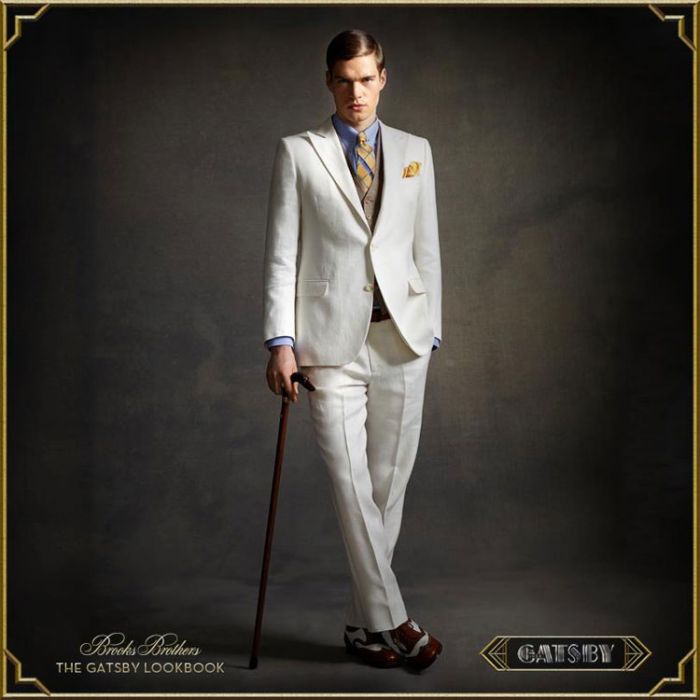 Photo Courtesy of Brooks Brothers
We know all about how the media influences society, and we?ve already seen how the upcoming release of
The Great Gatsby
remake has affected everything from
luxury jewelry
to other posh accessories ? but it doesn?t stop there. The manliest of all manly brands,
Brooks Brothers
, has just released an entire menswear collection completely inspired by F. Scott Fitzgerald?s literary classic. Read on to see all the stylish ways the man in your life can channel his inner Jay Gatsby.
Designed in collaboration with the actual Academy Award-winning designer of Baz Luhrmann?s forthcoming film, Catherine Martin, the limited-edition Brooks Brothers collection includes timeless tuxedos, suspenders, waistcoats, trousers and bow-ties that are reminiscent of the roaring ?20s. The decision to embark on this project was an easy one for Martin, who was aware that Fitzgerald himself was a lifelong customer of Brooks Brothers. So naturally, she turned to the brand?s 1920's archives for inspiration to create a modern take on classic pieces that are so reminiscent of that era.
The result is a swanky collection of evening suits, straw boater hats, club ties and loafers that would have Daisy Buchanan drooling. You can snatch up these stunning
luxury
pieces at over 150 Brooks Brothers locations around the world and online.