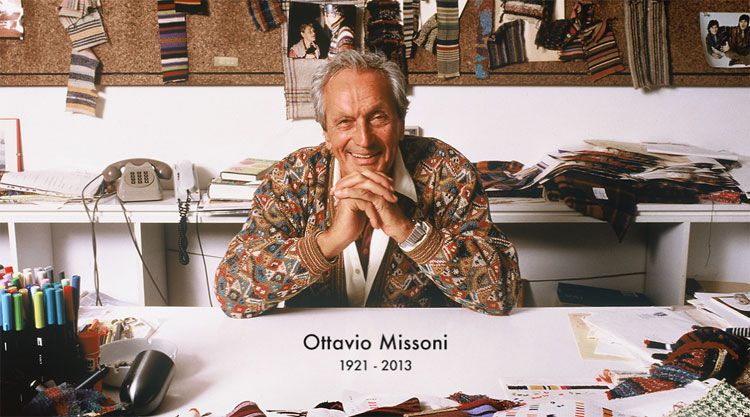 Photos Courtesy of Missoni
More sad news for the
Missoni
family: the company founder, Ottavio "Tai" Missoni, passed away this morning at his home in Sumirago, Italy at the age of 92, the family announced today.
Ottavio, along with his wife, Rosita, is responsible for creating a groundbreaking label after a career as an Olympic runner. Originally called Maglificio Jolly, Ottavio's company began as a wool and knitwear brand that eventually became Missoni in 1958. It wasn't long before the label developed the signature zig-zag pattern that became its signature. Always on the cusp of cutting-edge fashion, the brand became notorious when it sent bra-less models down the runway in 1967 wearing thin sweaters, a move that had the label banned from the runway until 1970. Of course, this only added hype to the up-and-coming brand, and unsurprisingly those thin lamé tops worn by the models flew off the racks.
With a handful of awards under their belts and a global expansion, Ottavio and Rosita passed control of their fashion empire down to their children Luca, Vittorio and Angela in 1996. The company continues to flourish, but unfortunately the family suffered another loss earlier this year when Vittorio, who was in charge of the company's management,
disappeared along with his wife and two friends
when their small airplane went missing off the coast of Venezuela. After weeks of searching and theories that the passengers may have been kidnapped, the plane's wreckage was later found in the ocean.