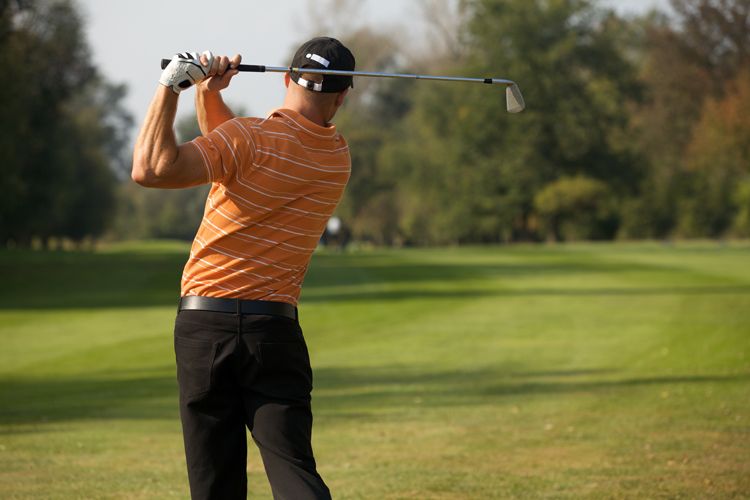 Photo Courtesy of Shutterstock
This
PGA Tour
has seen it's fair share of
outlandish outfits
from its spectators. Orange plaid, neon argyle and tiny golf course hats are all apparently perfect attire to cheer on your favorite athlete. Take it from us, polos, a cap and a nice pair of slacks are going to be a much better way to get into the game and still maintain your sense of style. Golf may have originated in Scotland, but your tangerine tartan is not really the best way to celebrate your favorite sport. So while we appreciate your enthusiasm, why not try a few of these before you head out to the green.
Let's start with a hat. You're going to wear one, so why not make it a good one? You can still wear a splash of tartan, but do it in a debonair, dashing, early 20th century sort of way. This
Mr. Kim
driving cap gives a nod to the game's origins without you donning a kilt and a Scottish brogue. Made with felted wool and a satin interior you'll be more stylish in this grey than bright orange. Mr Kim Jimmy Driving Cap available at
Barneys New York
. Priced at $235.
It might be hot out, but shorts aren't great for your new look; if you absolutely have to wear them just make sure they are a demure color.
Brooks Brothers
Gatsby Collection has ivory linen pants that will keep you cool and comfortable in style. With a light herringbone pattern throughout and a plain front you have an open canvas to pair with a variation of polo shirts. Brooks Brothers Great Gatsby Collection Ivory Linen Pants at available at
Brooks Brothers
. Priced at $298.
Polos are pretty much the name of the game. What else would you wear to a professional golf tournament? You can go a little fun here, dressing in lighter colors, stripes, soft plaids or even your official PGA apparel. (You're at sports game—I understand.) We particularly love this lavender polo from
Burberry London
. The simple striped collar and fun color give this a youthful preppy look. Burberry London Cotton Polo Shirt is available at
Saks Fifth Avenue
. Priced at $225.
If the sun is in your eyes you're not going to see that amazing shot everyone will be talking about for years to come. Wear sunglasses, you'll protect your eyes and won't miss a minute of the game. For a fashionable twist on basic black frames
Alexander McQueen's
Wooden Arm Square Sunglasses are a good way to go. Wooden arms, blue enamel frames and an iconic skull on the temple will make your eyes the center of attention. Alexander McQueen Wooden Arm Square sunglasses are available at
Neiman Marcus
. Priced at $480.
If it gets a little cold out on the green, or even a bit rainy while you're watching your favorite golfer win, you can always throw on a cardigan for comfort. It's easy to carry, lightweight and will look great over your new polo. This
Loro Piana
Seemless Cashmere Cardigan is made in Italy in a two-tone grey and blue. Even if you went with a blindingly yellow polo you can always tone it down with a grey cardigan, which
hopefully
you brought along. Loro Piana Seemless Cashmere Cardigan is available at
Neiman Marcus
. Priced at $1,165.