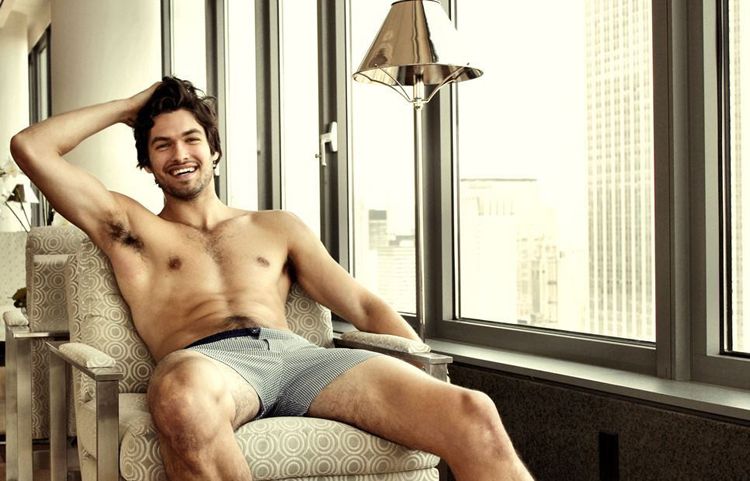 Photos Courtesy of Charles van der Pear
It's a question for the ages—boxers or briefs? Or maybe you like the middle ground of a nice boxer-brief? Sure they offer the support you're looking for, but you'll probably find another option, and a more flattering one at that, over at Charles van der Pear. Founded and designed specifically for comfort and fit, their boxers offer an interior lining and a slimmer cut—without the snug styling of boxer-briefs. They're meant to be stylish and flattering because, let's be honest, unless you have a body like Thor, it's unlikely you can pull off boxer-briefs.
Belgium born Karl van der Paer came to New York to finish his Masters studies, but soon realized he was missing something from home—not chocolates, family or a favorite bar—he missed boxers. Setting out to replicate his beloved underwear, he created Charles van der Pear to accommodate for a better fit and more flattering style. "All agree that boxers are healthier for men, and often they also look better on a guy, especially on those of us who don't frequent the gym that often. You can definitely count me in a part of that club," he explains.
Modeled after European styles and handmade in New York, these boxers feature inner support and are constructed from seven individual pieces of fabric for a better shape and fit for "keeping a man's boys in check." Made from shirting cotton that gets more comfortable after every wash, an adjustable two button waistband (to accommodate for those giant holiday dinners) and a button fly (that actually works) it's an improvement on those shorts that have been sitting in your dresser since last year. "It's time to upgrade your underwear drawer. It's time to pay more attention to your boys, it's time to treat them like royalty," Karl van der Paer says.
And since men have started to care more about style in recent years (finally), it only makes sense you start from the bottom up. Pun intended. Charles van der Pear wants to give you luxury and fun, because hey, they want you looking good "for yourself, your significant other, your date or your hot one night stand."
While the label is currently on its premiere collection, their pattern selection, design and feature styling suggests a brand that has long known its trajectory and end goal—and as their motto suggests "the key to success is in your hands and in your pants." Indeed.
Charles van der Pear is available online and priced at $49.