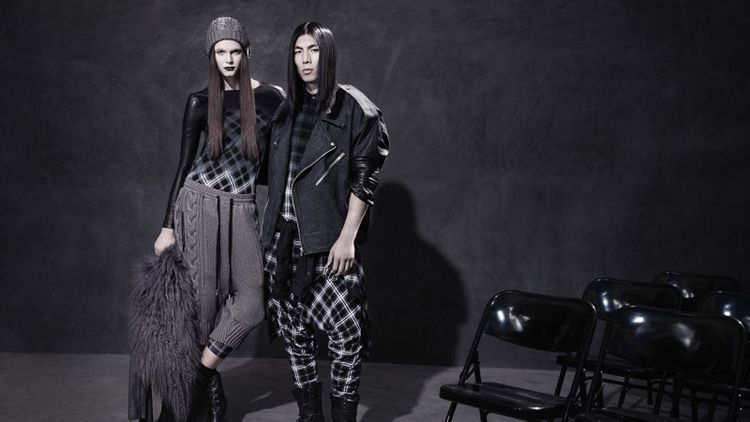 Photos Courtesy of Skingraft
Layers of leather might sound like a sartorial disaster (not to mention extremely hot), but these guys are totally pulling it off. With an entire collection of jackets, pants and tees in monochromatic fabrics and perfectly paired '90s plaid, the idea of fashion overkill actually sounds like a good thing. Skingraft's Fall/Winter 2013 collection is blending throwback trends with modern designs that might help you pull off your very own rock star style—and really—haven't you always wanted to look like a rock star?
Started in 2006 by designer Jonny Cota and CFO Christ Cota the label was created as an experiment—a way to blend art and fashion into statement pieces for both men and women. While their current collection is in the middle of a Kurt Cobain/urban chic revival, their past collections had a much darker streak and rely more heavily on imagery with inspiration seemingly ranging from BDSM to the assassin games that have you all glued to your Xbox. It's an eclectic line, but it's always dark, always edgy and always dripping in leather.
Textures, fabrics and patterns compliment this collection with excessive zippers, plaid flannel and beat-up, acid wash denim. There are even leggings for men—we know how it sounds, but you can't deny that it looks good. And even if head to toe leather isn't for you (but seriously how can it not be), the collection still makes for excellent separates. Motorcycle jackets, simple blazers and knits are found throughout the line and more often than not, can be paired down into something totally modern and chic.
There are always polos, blazers, sweater vests and the like to be found, but when's the last time you saw a pair of drop waist plaid shorts? Take a break from the tailored looks and enjoy a little fashion rebellion—besides if any brand knows the meaning of the word rebellion, it's these guys.
Skingraft is available online and at fine boutiques worldwide. Priced from $99-$1,536.