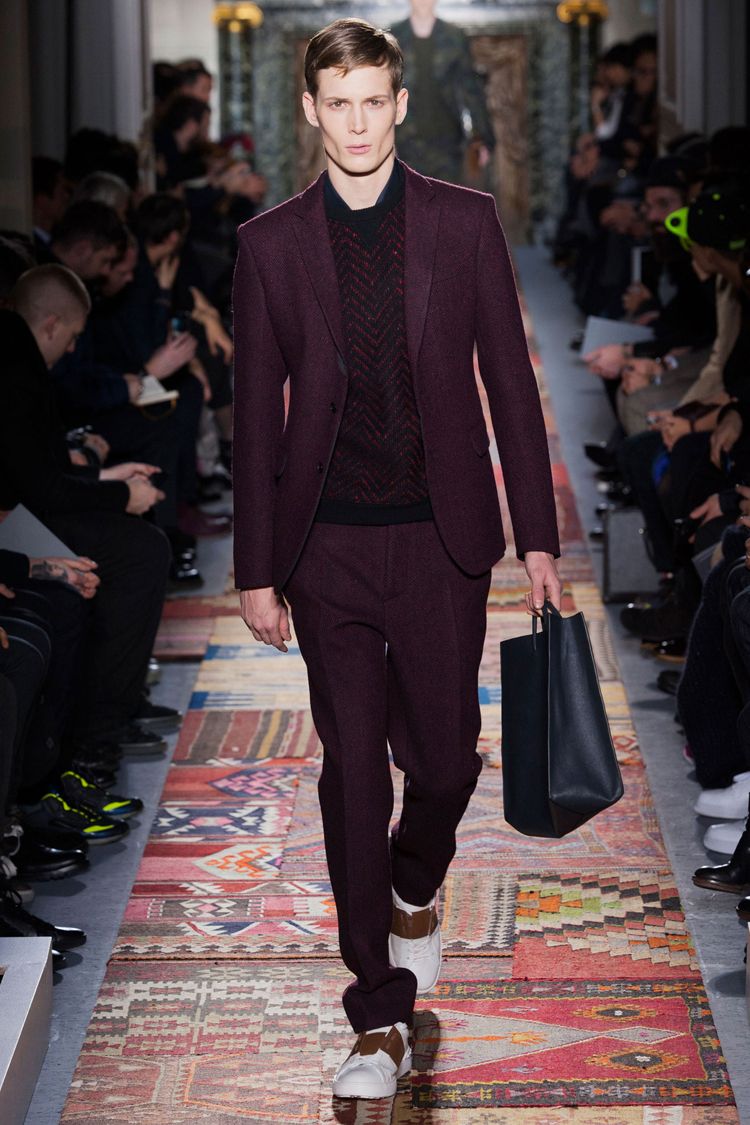 Photos Courtesy of Valentino
Mirroring the colors in the Spring 2014 womenswear collection, the Valentino menswear Fall 2014 line kept opulence at a minimum, using instead rich tones, tailoring and texture to convey luxury. Easy to wear jackets, coats and slacks came in both demure solid colors and graphic detailing in bright autumn shades of burnt orange, gold and navy. While not a total standout collection, we have to admit it's the most shoppable runway we've seen during Men's Fashion Week—which in the end can be so much better than impossible stovepipe pants or heavily detailed leather.
Despite the Blue Steel glances from lanky models, the collection was all about understated luxury—the pieces were simple, loose fitting and comfortable, seemingly made for those with a more laid-back attitude when it comes to fashion. Heavy wool coats and jackets in classic cuts came down the runway layered over shirts and sweaters in matching shades. The color on color styling worked in this collection, adding to that casual, I-just-threw-this-on-vibe.
The real luxury in the line is the tailoring. Loose fitting shirts and blazers hung like pajamas over straight slacks and jeans as if they were intended to fit that way. Nothing looked bulky, heavy or drowned any of those handsome models in excess fabric when they walked. Everything dropped over shoulders, past wrists and fell over ankles in a way that makes buying a shirt two sizes too big suddenly seem like a brilliant idea.
Fur, wool and leather fabrics gave the collection a chicer feel even when dressed down with Valentino's Rockrunner sneakers. Heavy multi-toned fur coats were stylish but still functional, and didn't teeter over the edge of ridiculous—even if they were really, really ridiculously good looking. And we can totally overlook the few misses (seriously why is camo print coming back?) since we're so busy falling in love with soon-to-be-favorites like the patchwork coat and plum leather jacket. We can't say this is our favorite men's collection, but it's an instant classic that should be in your closet come fall.