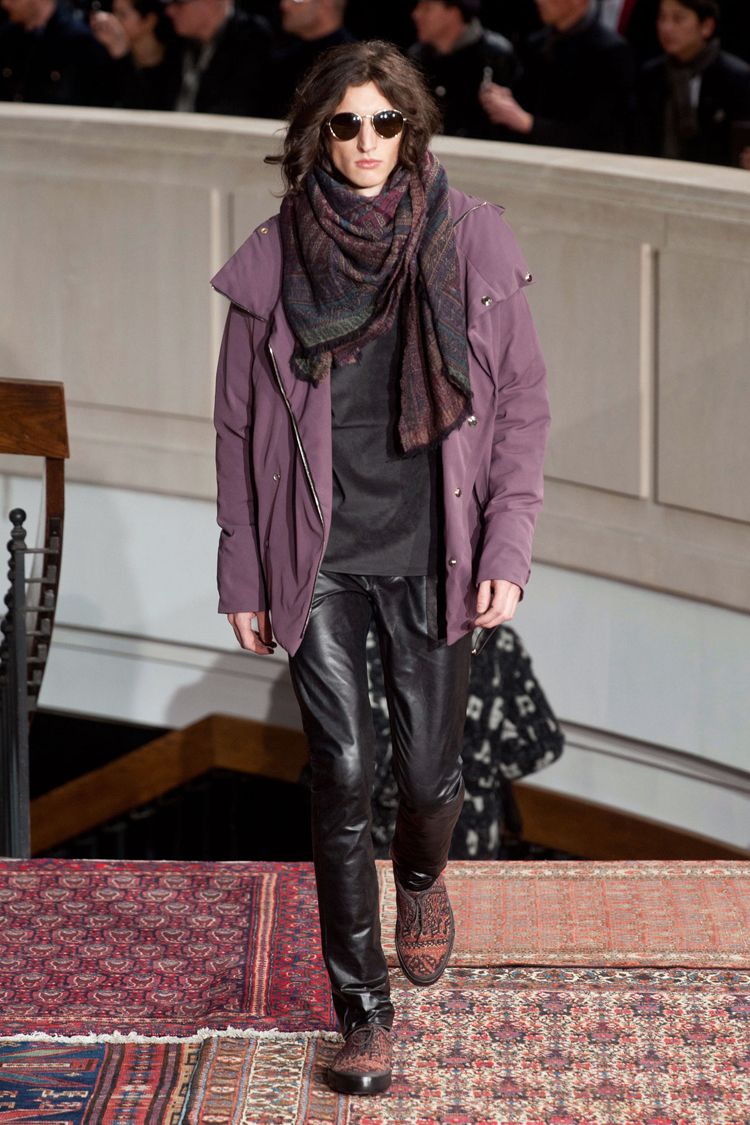 Photos Courtesy of Paul Smith
Remember that one guy in college who listened to old 60's and 70's rock, would strum three chords to Freebird (because that's all he knew) and couldn't stop talking about the deeper meaning to Beatles lyrics? The Paul Smith Fall 2014 collection was basically designed for that guy—albeit a much sleeker and stylish version of him. The collection which drew heavily from the days of classic rock was filled with mauve-hued coats, dusty blue jackets and for a more literal translation—music note covered fabrics.
We love a collection that breaks away from the boring normal suit and coat sets we generally see, but we get that not everyone will be on board with this casual, cool-kid look. Sure it's for the younger set, but those teeny-bopper rockers aren't going to dress themselves. Paul Smith walks a fine line between artsy-style and full out disaster, but we kind of love it—plus it's totally different than all those bright colors we've been seeing on his runway over the past few seasons.
The collection is a blend of slim tailoring and loose cuts—leather wrapped legs pop out from beneath low-slung parkas, styled with heavily decorated scarves and quaver-printed shoes. Though it can seem a little too match-y with every music piece styled together, apart they add a little whimsy to what would otherwise be a pretty basic ensemble.
With such a huge variety of patterns, fabrics and cuts this collection could have been much worse, but amazingly it all kind of worked together. Palm tree prints, blocky camel images and tie-dye shirts don't sound like something any fashion maven would wear—in fact it sounds pretty awful—but this collection pulls it off without making you think twice about what you just saw. All you know is it looked good.