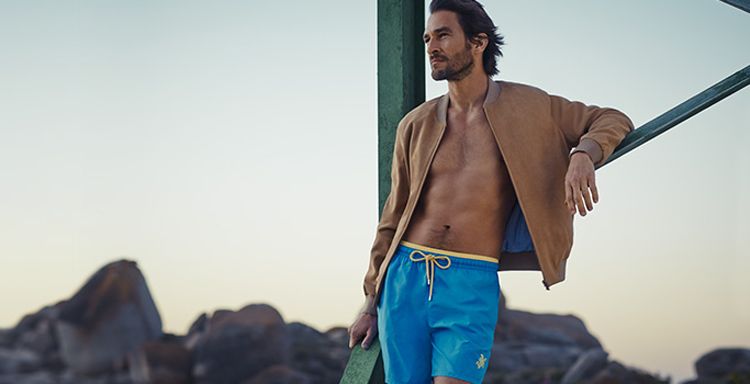 Photos Courtesy of Vilebrequin
Guys, we know spring is all about beachside getaways and pool parties—but it's also about casually lounging around in your favorite swimwear. No, we don't mean Speedos or banana slings (but if you can pull it off more power to you), we mean a pair of trunks that are just as luxurious and cool as you need them to be. A brand that just caught our eye—and not just for the hunky models in swimwear—is Vilebrequin, a line started in the '70s and inspired by the beaches and spirit of Saint Tropez. With a line of swimwear, resort wear and accessories, they have everything you need to make the most of your summer—and all while showing off that hot six pack.
In 1971 Fred Prysquel took a seat at a Saint Tropez café, and watching the town unfold before his eyes, began to sketch his first board shorts on the edge of his tablecloth. The image captured the spirit of the people and season and, feeling inspired, he began Vilebrequin, his own brand of men's swim and resort wear. Influenced by the sport of sailing, which is so popular in the Saint Tropez region, he took to making his shorts out of spinnaker sailcloth as it's quick-drying and specifically designed for heavy use in the sun and surf. He was met with immediate success and by 1995 he had added on a Father & Son collection allowing boys from six months old and up to match with their dads on family vacations and coastal adventures.
While the original concept and design of those first shorts has been reimagined several times over, the attention to detail and desire for groundbreaking design stays the same. Current trends find their way onto swimwear prints with floral, animal, vintage motifs and random cool characters like Where's Waldo. And while not all guys can pull off pink seal prints, you've got to hand it to the men that do. With a selection of both printed shorts and limited-edition embroidered trunks, there's enough selection for pretty much every guy out there—from the solid-colored, short shorts, to the casual, long-inseam designs. Plus, the limited-edition pieces come in a numbered series so you know you won't be wearing the same shorts as everyone else on your water polo team.
The Vilebrequin emblem is the sea turtle, and for the brand, it's more than just an insignia to throw on their shirts and shorts. Partnering with Plant A Fish (not to be confused with Plenty of Fish), Vilebrequin is helping to reintroduce sea turtles to the sea of El Salvador. Developed by Fabien Cousteau—a third generation ocean explorer, filmmaker and environmental ambassador—Plant A Fish works to repair marine ecosystems and reintroduce threatened species to the ocean. Vilebrequin and Cousteau even joined together to create a capsule collection of Father & Son trunks to encourage men to inspire their sons to respect and care for the environment. With every purchase, $10 is donated to the initiative.
On top of awesome shorts, a rich history and basically saving the world marine environment, the guys over at Vilebrequin also travel to unknown beaches throughout the world with suggestions for places to stay, things to do and which surf to ride. So if you're looking for new swim trunks this season and trying to decide between that super-sexy Speedo and the same, go-to brand you've been wearing for a few years now, it might be time to shake things up. We suggest the pink seals.
Vilebrequin is available online and priced from $185-$740.