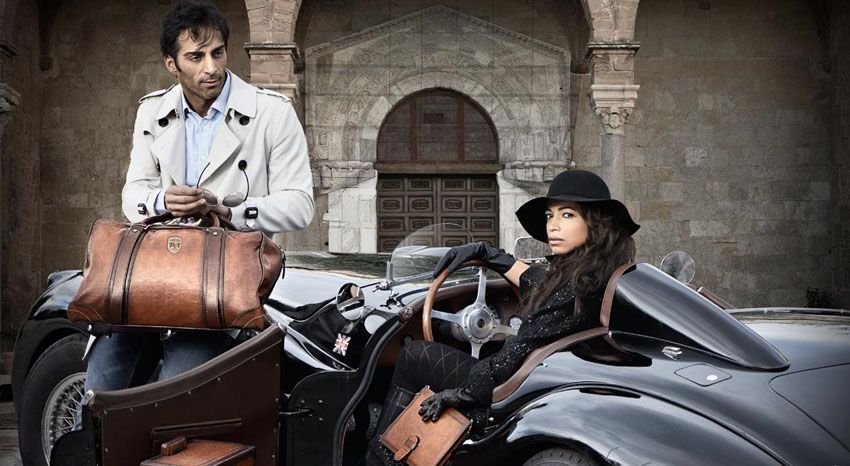 Photos Courtesy of Beruccio
There are a few things that make a true gentleman—first his treatment of women (you still need to open doors, fellas), secondly a snazzy suit, and thirdly his luggage. His briefcase, overnighter or satchel is a point of scrutiny and can speak volumes to a man's style and prestige—which means your Jansport should have left your closet the moment all those college textbooks did. If you're still hanging onto some older bags or need a serious upgrade we're loving the look from the new Mayfair collection by Giovanni Beruccio, available for the first time online.
Designers Michael Beruccio and Mario Mazzola, based in London and Italy respectively, work closely together to create a brand of bags that blend English refinement and Italian style. While they produce limited-edition, bespoke luggage exclusively, they will offer a range to be sold online that will encapsulate the same quality and timeless luxury of their in-house designs. "We love to work with the beautiful leather effects and distinctive stitching produced with the experience of generations of local artisan craftsmen to create the final result, a beautiful piece of timeless craftsmanship, a classic Beruccio piece with a perfect combination of English elegance and Italian style," explained Mazzola. "We are excited to be able to make a limited edition, bespoke range available online for the first time."
If all of this is starting to sound fancier than the same boring gym bag you've been toting around for weekend getaways then take note, because these bags are literally the cream of the crop. Using Tuscan leather, vegetable dye and traditional tannery methods, the bags are 100% made in Italy—even the brackets, fastenings, zippers and lining are all sourced locally. Crafted exclusively in the Sicilian and Tuscan regions of the area, bags are handmade by local master artisans and are designed to last a lifetime. "Here in the South of Italy we continue to the Beruccio tradition crafting and designing the finest natural Tuscan leather to create exquisite Beruccio designs, producing the ultimate in luxe style and elegance," Mazzola explains.
Personally we're digging the collection which includes briefcases, travel bags and messenger bags—the Serratura Unica being a favorite. Plus their dying process is a natural process ensuring that no harmful chemicals will be used—keeping the environment, artisans and clients safe. And while environmental issues may be the least of your concerns when purchasing a quality leather bag, it's great to know they're doing what they can, where they can. If you're planning on getting away for the weekend, or just need a new briefcase check this brand out—at the very least it'll look snazzier than a Jansport.