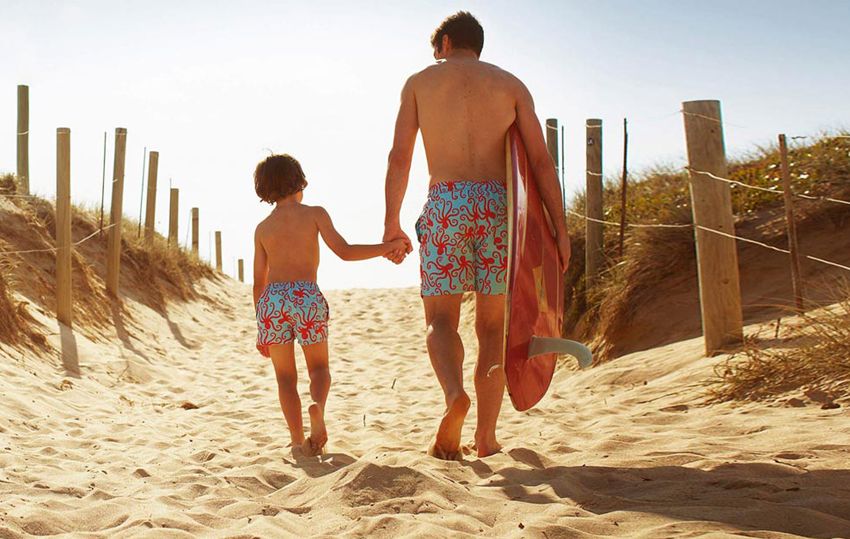 Photos Courtesy of Tom & Teddy
Doesn't it kind of make sense that Father's Day and the beginning of summer coincide? All those things we associate with the warm season—barbequing, boating, fishing—wouldn't be as cool without dad around to show us the ropes. To celebrate all that father/son bonding time that takes place in the middle of summer, Tom & Teddy has created a line of matching swim trunks that come in two sizes—one for adults and one for kids. We admit dad would probably love a new watch or a signed Rolling Stones album for his big day, but twinning at the beach is cool and kind of sentimental—besides what boy doesn't want to grow up to be just like his dad?
Founded by Michelle L'Huillier and Jelle de Jong, Tom & Teddy was born from spending quality time with their two sons in the surf and sand at their former home in Sydney, Australia. Wanting to capture the outdoor bond between father and son, they began Tom & Teddy, enlisting designers Nicola Van Weerdenburg and Barbara Leonard, and artist Phil Marden to bring it to life. Aside from offering swimwear for men and boys on their site, they also blog about summer with entries about teaching kids to swim or how to get over first-time water jitters.
If you can get your little buddy in the water then there is some seriously adorable style to be had between the two of you. Coming in both men's and boy's styles, swim trunks come in fun colors, patterns and designs including blue scooters, pink turtles and yellow airplanes. Yes, it sounds a bit juvenile, but the print is cool enough to look abstract on adults and still capture the attention of little ones. Made of quick-drying microfiber fabric with cotton lining, these shorts are perfect for a day of sun both in and out of the water. Salt water and chlorine resistant, these shorts will stand up to long days at the beach and are UV protected to keep skin safe. Plus they offer two side pockets, a back pocket and two rear eyelets for air to escape (to prevent that annoying ballooning effect).
If dad is dead set on a new JeanRichard watch or has been dropping hints about a trip to the Maldives then by all means, don't disappoint. But father and son matching shorts could make that trip much more memorable—not to mention Instagram-worthy. But even without the picturesque seashore, world-class beaches or even matching trunks, a day at the pool spending time with each other can make for one amazing Father's Day.