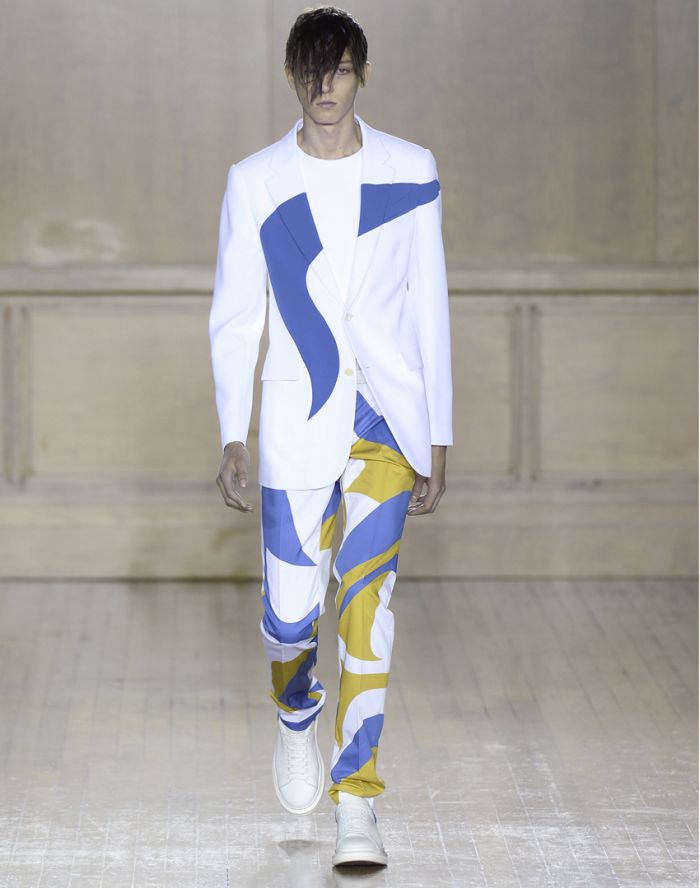 Photos Courtesy of Alexander McQueen
Are you ready to start planning your summer wardrobe? Next summer's we mean. Alexander McQueen's Spring/Summer 2015 menswear runway show was filled with artistic suits, oversized cuts and lighter colors (hey, everything can't be black) for all your warm-weather needs. Maintaining the dark and unearthly aesthetic that the brand is known for, black and grey were tinged with color and white ran rampant through the collection. Inspired by abstract kabuki, patterns flowed over suits, onto undershirts and even shoes which were excessive and almost comedic in proportion. Layers were heavy despite the season, and a mixing of patterns felt fresh and light.
Intertwining throughout the collection, the enlarged kabuki pattern was used as a color way—adding splashes of yellow and blue to summer whites or drenching black suits in red or white. Some would begin on a collar and fall down the sides, cross a matching undershirt, run down trousers and onto shoes giving the whole ensemble one cohesive look. These patterns flowed in either a hodgepodge pattern or were uninterrupted by layers or tailoring—seemingly woven together. Of course if you only grab one piece from the ultra-cool ensemble it will disrupt the intended pattern—best to get the whole collection.
While most pieces seemed cut for summer with dropped waists, loose fitting fabrics and just enough structure to keep it from looking sloppy, other silhouettes followed the oversized theme that saw itself replicated on shoes and prints. Shorts fell to the calves, shirts became tunics and exaggerated cuts drowned every model in fabric. The large shorts with knee socks under resembled breeches and were surprisingly fresh for the season—plus ladies love a man in breeches.
Most summer collections go heavy on natural fabrics, letting pieces flow in linens or silks, but Alexander McQueen opted for classic British materials using houndstooth, birdseye and Prince of Wales tartan in a majority of the collection. Used as the base for an overcoat or added on as trim to a pant, the fabrics still look light and fun thanks to bright colors and a mix-match of patterns.
Some of our least favorite looks included the cutaway coats and pants that had accents of red seemingly popping out from underneath slits in the fabric. While most of the collection felt summery (even if it was filled with heavy fabrics and overcoats) these pieces looked as if they would fit right in at Hot Topic; personally we haven't shopped there since we were angst-ridden teenagers—and we're kind of thinking that's where they should stay.