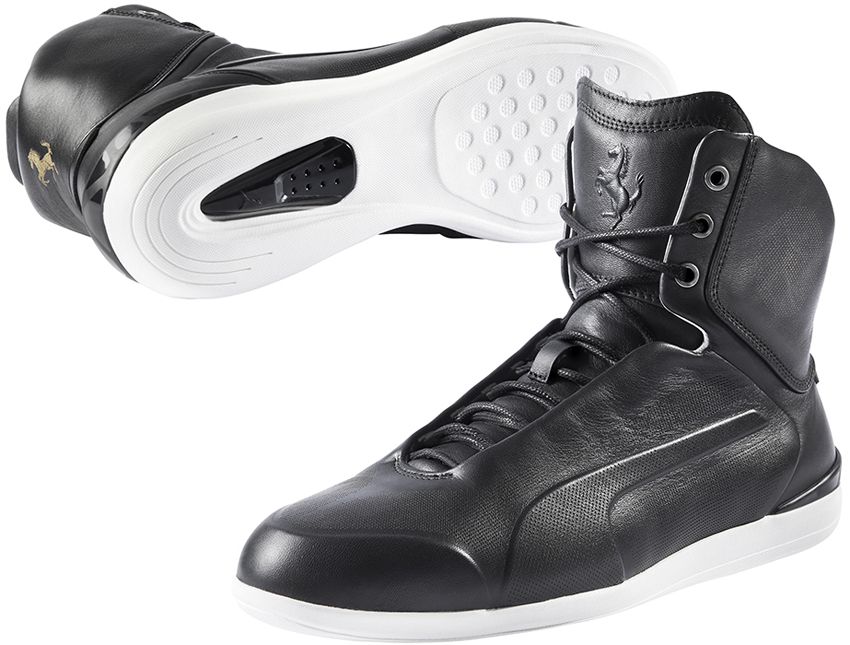 Photos Courtesy of PUMA
There are two things guys love: cars and shoes—and sports. Okay, so maybe there are a few things guys really love, but when you start combining them together great things are bound to happen. Some men love Nascar (sports and cars), while others have an obsession with collecting rare basketball shoes (sports and shoes), so when we heard PUMA and Ferrari were joining together to create a pair of ultra-exclusive kicks—we knew they had to be good.
Inspired by limited-edition Ferrari sports cars, The Limitate Footwear Collection emulates its muse in every way, from the luxurious materials to its limited production numbers. Using the same Italian leather that can be found on Ferrari's car seats, the new shoes even feature the embossed Ferrari Prancing Horse on the tongue. Coming in both low and high-tops in grey and black, the classic, streamlined silhouette nods to its automotive influence, making the collection as covetable as a new, cherry red Ferrari. But with only 499 available, grabbing a new car might just be easier.
PUMA x Ferrari The Limitate Footwear Collection is available at select PUMA and Ferrari stores and is priced at €280 ($381).