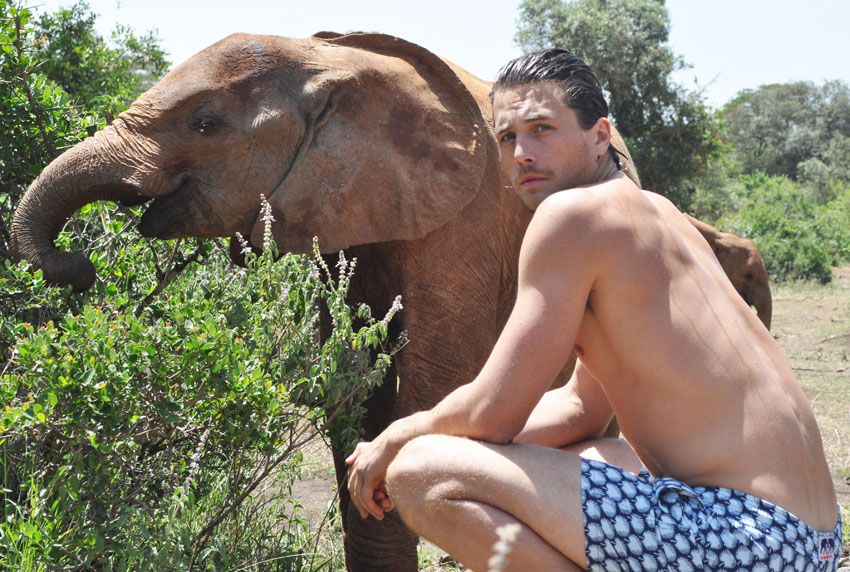 Photos Courtesy of Love Brand & Co.
We love animals and we love shirtless men so when we heard about a new brand that is basically bringing us both, we couldn't ignore them. London-based label Love Brand & Co. was designed with luxury swimwear and elephants in mind—two things that never really went together until now. Starting a Trunks for Trunks campaign (how adorable!), the new brand is doing their part to dress guys in on-trend swimwear and help the endangered African elephant at the same time. Men can make the most of their summer by making a fashionable splash while giving to charity—plus you guys are guaranteed so many brownie points if you tell your lady your new trunks just helped save a baby elephant.
In 2011 Oliver Tomalin's appreciation for the beach and devotion to wildlife conservation allowed him to create Love Brand & Co. as a way to merge his two life passions. "I have taken an endangered animal I love and put it together with beachwear I am passionate about producing," Tomalin explained. With a collection of swimwear for men and now women, the brand is picking up in popularity allowing its message to be heard worldwide as it's now available in over 60 countries at luxury resorts and stores.
Love Brand & Co. donates five percent of their sales to three different charities including Elephant Family, The David Sheldrick Wildlife Trust and Tusk Trust. Elephant Family, founded by Mark Shand (brother of The Duchess of Cornwall), works to save endangered species including orangutans, tigers, elephants and other animals "who share their habitat." "The most serious issue facing wild elephants in Asia is habitat loss. They are running out of the space they need to survive," explained Tomalin. "Elephant Family are instrumental in securing the essential corridors of land. We are proud to be supporting such vital projects." The David Sheldrick Wildlife Trust is one of the more popular elephant conservation organizations known for the raising and "hand-rearing of milk dependent orphaned baby elephants" until they are independent enough to be released back into the wild. Tusk Trust works on the opposite side of conservation and attempts to "alleviate poverty, improve education and reduce conflict"—plus their Royal Patron is Prince William so you know they're doing something right.
In the Trunks for Trunks campaign, model Ben Robson was photographed at the Nairobi nursery in Kenya at The David Sheldrick Wildlife Trust, posing with the cutest baby elephants. "I feel very fortunate to have had the opportunity to engage with these magnificent creatures in such close proximity in their own surroundings," said Robson. "It is something I will never forget and made it even harder to understand how people could possibly bring any harm to any of them." We totally agree—how amazing must those elephants be if we barely notice the shirtless model standing next to them?
Love Brand & Co. is available at fine retailers worldwide and online. Priced from £89-£119 (approx. $152-$204).