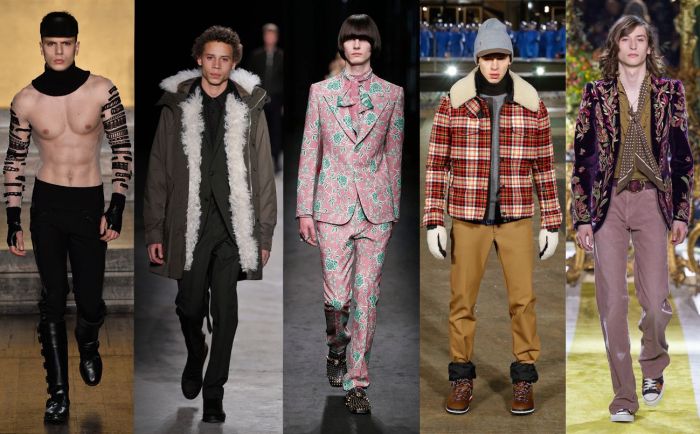 Julien Macdonald, Rag & Bone, Guicci, Moncler, Roberto Cavalli
Dual collections and androgynous looks are taking over Fashion Week, which means that there's no longer a clear, concrete distinction between men's and women's collections. In the past, Men's Fashion Week has its fair share of womenswear sprinkled throughout (most of which is usually influenced by menswear), but menswear popping up at the ladies' shows? That has been pretty rare—until now. Over the last month we've seen a few great pieces presented on the women's runway and we're pretty sure the trend is here to stay. Here are our favorite men's designs pulled straight from the women's runways.
Photos Credit: Roberto Cavalli
Roberto Cavalli
Clearly it takes a certain type of man to pull off the looks at Roberto Cavalli. His aesthetic is never dull and this season his outwear was something of an art. His male models wore basic jeans or trousers topped with bold prints, muted colors and lots of texture. He layered sparkly skinny scarves over embellished knits, blazers were embroidered with dragonflies and floral motifs, and there were quite a few frills and flounces. Fur was also used heavily in his men's outerwear in coats or as trim around coat collars. Accessories were big for men, every look was topped with at least one scarf and an embellished belt.
Photos Credit: Burberry
Burberry
Burberry announced earlier this year that they would now start combining their men's and women's collection into one big presentation twice a year—this was the first. This season all of the ladies were given a tomboy look, and the menswear suddenly felt right at home. Male models came out in dark forest greens inspired by the military wear of the season, and a series of dark marron pieces. Everything was also given just a touch of sport with trainers, bomber jackets and workout jackets which were layered over well-tailored coats and wearable plaids. Of all the menswear we've seen this season this may the most easy to wear.
Photos Credit: Rag & Bone
Rag & Bone
This season Rag & Bone combined their men's and women's collections into one giant show they presented at New York Fashion Week. But to be honest, most of the designs this season didn't seem to differentiate much from one to another. Both offered bulky outerwear (a trend for men's fall style) and dark urban colors. The menswear did offer larger silhouettes, though. Oversized fur-topped parkas were layered over jackets, coats were quilted to give extra volume and warmth, and coats had large, high-neck collars. There was also a big push on leather and satin that came in the form of pants, jackets and trim on other pieces.
Photos Credit: Moncler Grenoble
Moncler Grenoble
Combining their men's and womenswear into one show, Moncler Grenoble's lineup was filled with collegiate wear and cold-weather pieces all with more voluminous proportions than necessary. Men's jackets were trimmed with shearling and used bright pops of color like cognac, sapphire blue and a particularly lovely red lumberjack plaid. They were layered in multiple turtlenecks and sweaters, partially to protect against the NYC cold, but also to add volume and depth to their silhouette. It was nice to see a little color in the menswear, especially in an outerwear collection.
Photos Credit: Vivienne Westwood
Vivienne Westwood
Wild looks are de rigueur for Vivienne Westwood, but this season she pushed the envelope with a show seemingly dedicated to the idea of gender fluidity. Her husband, who works on the line with her, noted that spirituality was the inspiration behind the designs which became clear almost immediately. Men walked out swaddled in clothing like monks or in calf-skimming skirts (or were they kilts?) blurring the lines between the men's and women's collection. Come this fall, the entire collection will be labeled unisex so it's really up to each man to decide what he's comfortable wearing. For the guys that are a little hesitant about pushing the boundaries of their gender there are also a series of plaid sports coats that were wearable, but just rock 'n' roll enough to still be distinguishable as Westwood.
Photos Credit: Julien Macdonald
Julien Macdonald
Yes, most of his male models came out chest-bared, looking like they were only halfway through their routine at Chippendales. But can we take a moment to notice the insane amount of mastery that went into crafting these tissue-thin sweaters? These sheer knits are so fine and topped with embellishments like fabric and appliqués—clearly it takes more than a little textile manipulation to make it work. Even if these pieces aren't quite your style, there's really no denying the amount of work and talent that went into making this knitwear.
Photos Credit: Gucci
Gucci
Alessandro Michele has been melding the idea of menswear and womenswear for a few seasons now, so it was no surprise when men hit the runway this season in floral suits and colorfully printed ascots. But his Fall 2016 male models look much more masculine than before, with cuts that looked like they were specifically designed for their bodies. There was a lot of print-on-print layering and playing with proportions which only made the suits look better and, if possible, more fashionable. His men are still rocking the loafer into 2016-2017, but this time they'll be decked out with spiked studs.
Photos Credit: Daks
Daks
As far as womenswear goes, the Daks Fall 2016 show wasn't particularly thrilling; it was the menswear that stood out on the runway. Using the same palette of color and print as some of the women's dresses, the male models walked out in cool rust-toned plaid jackets and overcoats. One jacket in particular looked as if it had been painted with brush strokes along the bottom, working its way up from the hemline to the waist in a splash of white, brown, tan and orange. Hideous on a dress, but just right when you're looking to spruce up some monochromatic menswear.
Photos Credit: Chanel
Chanel
Karl Lagerfeld presented a collection heavy in rose and pink on the Fall 2016 runway this season, but when it came to the few men's looks, he dressed them in muted colors, bulky outerwear and a ton of texture. He layered ponchos designed to look like Chanel jackets over chunky bouclé turtlenecks, sent out cropped coats with high structural shoulders and paired everything with leather trousers. There wasn't much overlap in design from men's to womenswear, but their boots were both exactly the same. The only difference was color: ladies were given a number of colorways while the men were restricted to brown.