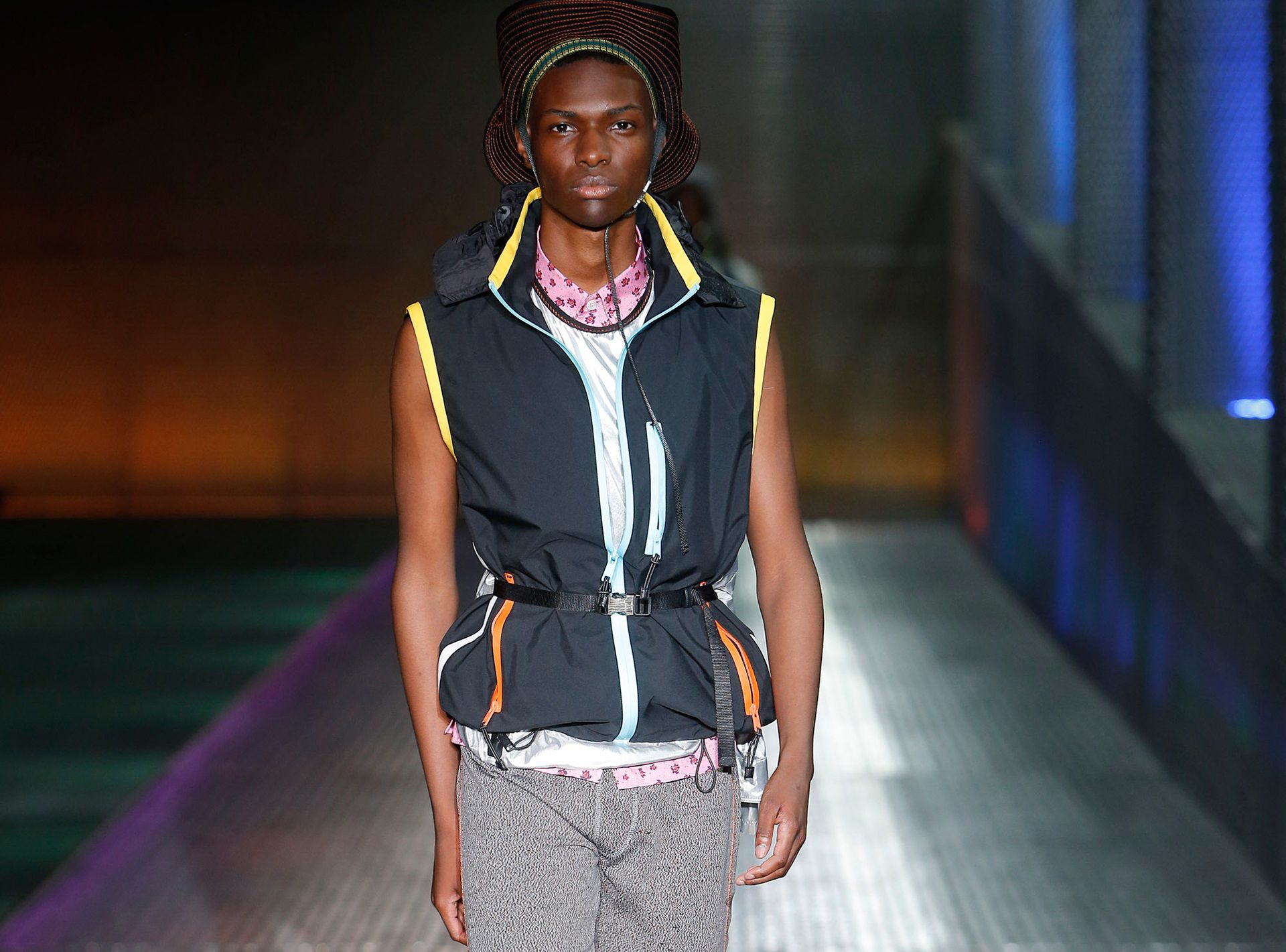 Photos Credit: Prada
After Miuccia Prada touched on the idea of the vagabond for her Fall 2016 show, she returned to the theme of travel for yesterday's Spring 2017 Menswear line. This time around, her focus was on rugged adventures off the beaten path, brought to life with a series of rough active wear—rain coats, anoraks, parkas and zippered utility pants. It was the next step in this season's inspiration, a line that felt, simpler and cleaner than those that came before. Pieces were new and unfamiliar, which allowed her to impart her ideas on fresh designs and showcase her talent at reinventing the brand as she sees fit.
Models walked down the runway outfitted in layers of windbreakers, Teva-inspired sandals (paired with graphic socks) and backpacks stuffed with shoes, jackets and accessories. It was elevated for the Prada shopper—metallic fabrics, patent leather sandals and Instagram-worthy accessories littered the collection—but it also felt wearable, as though it were possible (though not advisable) to bring one of these parkas on your next expedition. The women's resort collection was shown in conjunction with men's, but instead of hiking gear and boots, women were saddled down with high heels and makeup bags. "In case you want to have a beautiful evening," Prada explained the press after the show. One can't forget to be glamourous, even when exploring the globe.
Adventure travel is a straightforward, and on its own, thoroughly boring theme, but Prada gave the sportswear a decidedly unexpected appeal through colorful plaid and floral prints. Even the women's utilitarian dresses seemed feminine and fun when done in satin fabrics and bold patterns. It felt original and new, despite the ongoing trend of active wear. It could be because we haven't seen anything this athletic come from the Italian house since the launch of Prada Sport in the late '90s. She took her time, but it looks like Prada's finally put her own touch on modern athleisure.