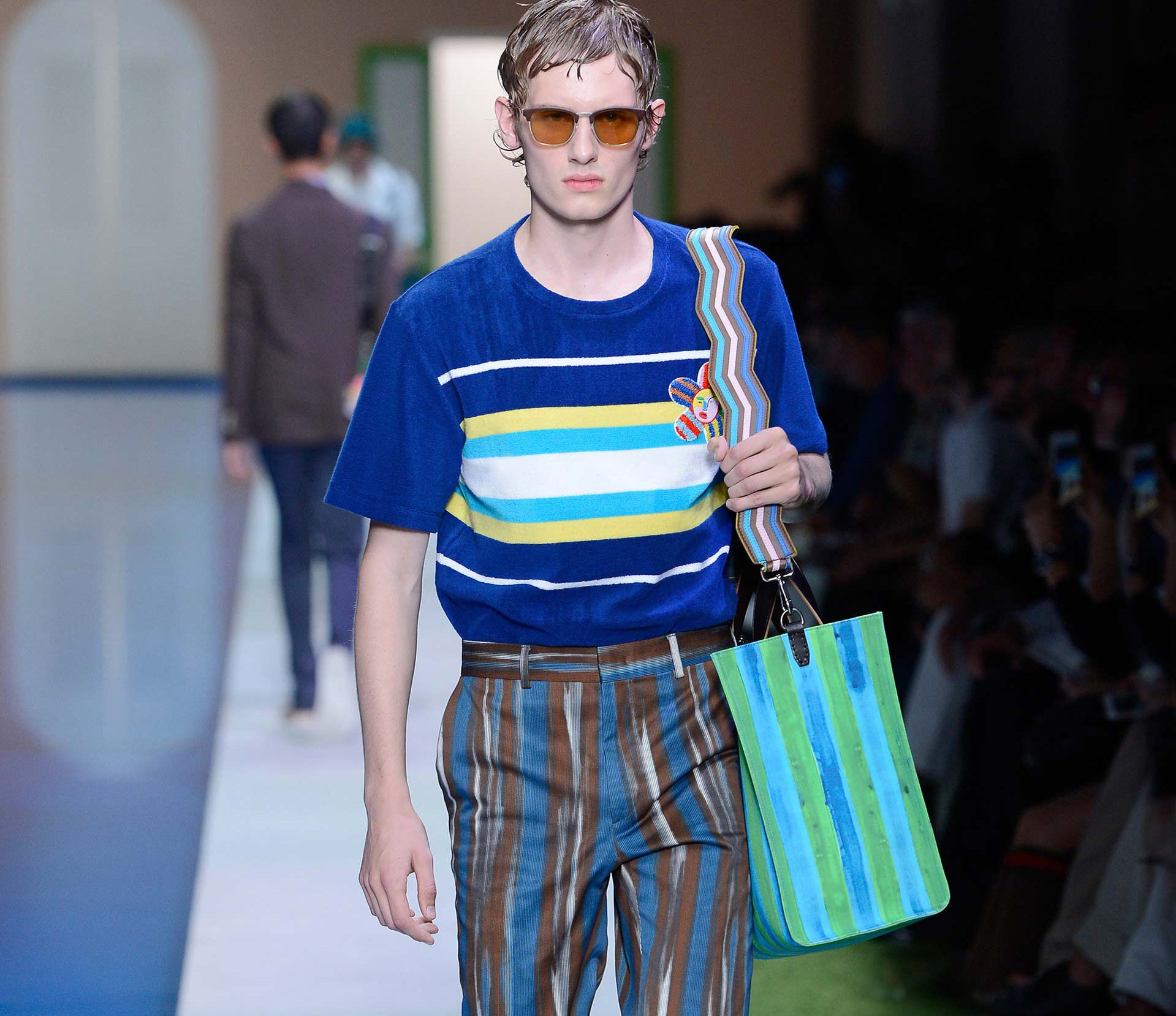 Photos Credit: Fendi
Summer is about fun in the sun, and Silvia Venturini got straight to the point at yesterday's Fendi Spring 2017 Menswerar show. She transported her audience from the runways of Milan to a backyard complete with swimming pool, Fendi-diving board and AstroTurf, tapping into the resort looks of mid-century artists and academics. Backstage, her mood board was filled with images of Albert Einstein on the beach, Pablo Picasso in a pair of terrycloth shorts, David Hockney in a bumblebee shirt and Salvador Dalí enjoying his summer holidays. Emulating their laid-back resortwear, she sent out a collection that felt very luxurious—as Fendi is wont to do—but still captured the carefree spirit of summer.
At first it felt almost too casual—men came down the runway in terrycloth coats, tops and shorts paired with rubber slide sandals and bucket hats. But these seemingly simple pieces were elevated in ways only Fendi would consider. Some terrycloth pieces were reworked to look like shearling on the lining of coats and jackets, lounge pants were spun silk and panels of fur were sewn onto jackets and coats to emulate the terrycloth designs of the collection. Lounge, robe-like jackets were slung over preppy summer looks of the '50s and '60s. With a somewhat drab palette of grey, green, khaki and navy for summer, the collection was punched up with wide stripe and floral prints.
What really gave the collection its edge was the colorful, punchy line of accessories and luggage. Men walked out with bold overnight bags and totes that came in every shade from a low-key beige to a rainbow striped satchel with floral appliqués. Bucket hats were covered in abstract floral designs and models wore funky retro shades that perfectly captured the inspirational period.