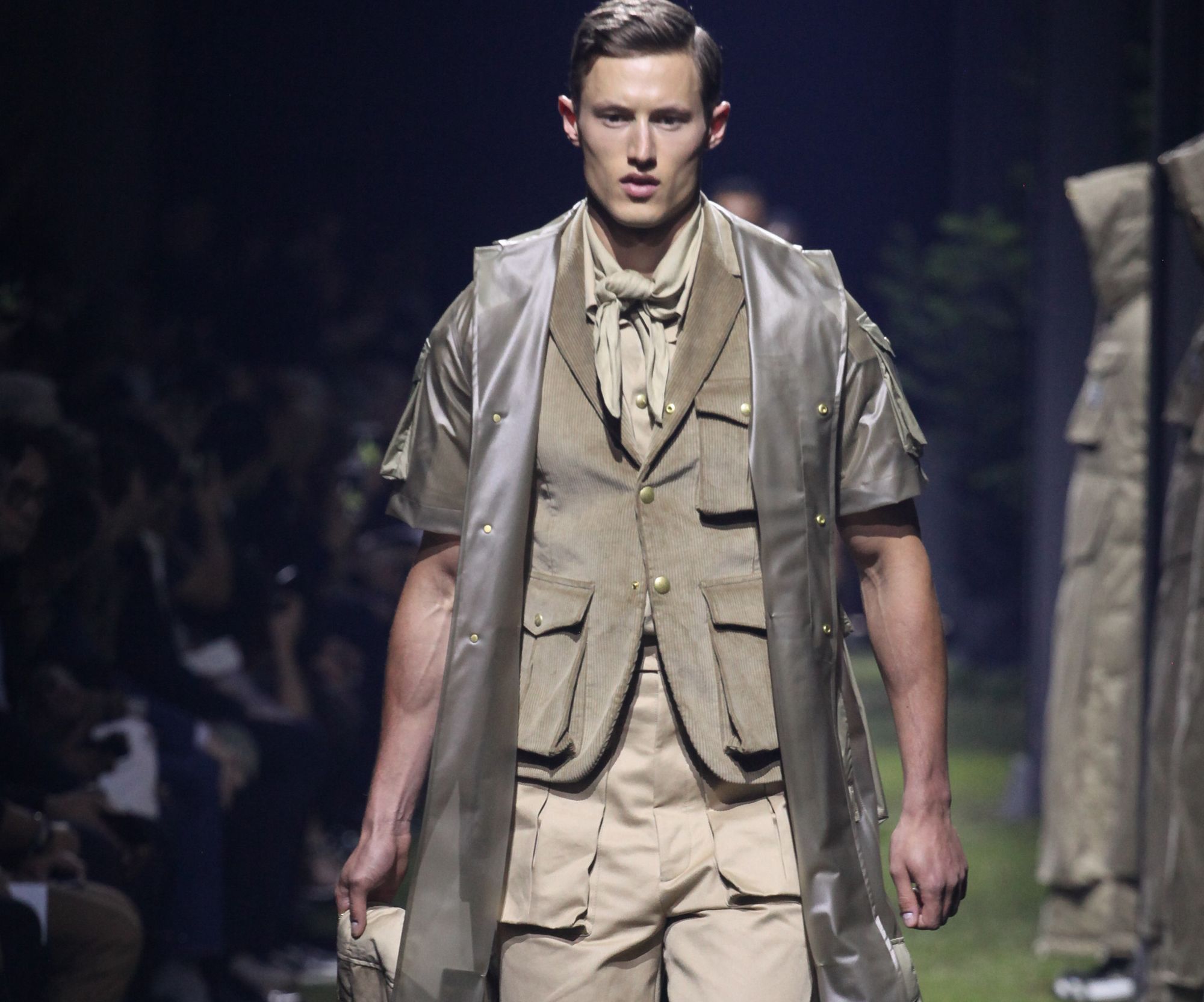 Photos Ctedit: Moncler
For some, summer brings to mind days lounging by the pool or sunning in the sand, for Thom Browne, it's all about camping with the Boy Scouts. For the Moncler Gamme Bleu Men's Spring 2017 show, he dove into the French brand's archives, outfitting the runway with sleeping bags, waterproof wear and tents from the label's original offerings in 1952. Models came out all at once, each hidden under a cagoule, as two mascots, which we can only imagine were Browne's interpretation of Smokey the Bear, took to the turf-covered runway to undress each model one by one. Once uncovered, each model took a lap around the Yellowstone Nation Park runway before returning to his tent, where he promptly slipped inside.
The set was enough to drive home the idea of Boy Scouts camping in the wilderness, but it was reinforced with a heavy-handed collection of khaki, brown and hunter green. Models walked out in utilitarian pants and jackets, some dotted with a pleated box pocket or two, while others seemed to be nothing but pockets. A Boy Scouts' look is not complete without his ascot, and a bit of plaid, or khaki fabric was knotted at the neck of almost every model. Like true Boy Scouts, these models seemed prepared for any weather. Short sleeve jackets, knee-high socks (with pockets of course), heavily layered anoraks, cargo shorts, blazers and raincoats were amongst the most popular looks on the runway.
The collection was fashionable of course, and used luxurious materials like astrakhan, linen and cashmere, but Moncler is first and foremost an outdoor line. Amongst the more high-fashion pieces, lay the more subtle, but truly functional outerwear that could take these scouts from the runway to the rugged mountains. Heavy plastic raincoats, down coats, rubber boots, and functional cargo pants, were spotted between the more stylish pieces, making the collection practical and chic—even if you'll be spending your weekend outdoors with giant stuffed bears.