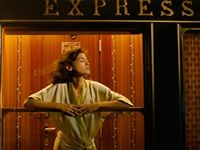 News & Trends:
Legendary fragrance Chanel N°5 has been the signature scent of well-heeled women since 1921.
According to Coco, wear perfume where you want to be kissed. The scent represents Chanel, in its modern-shaped bottle an opulent, yet mysterious scent that builds on the multitude of legends that have grown around the most famous perfume in the world.
As the first designer perfume, Chanel N°5 utilizes black and white, elements that Chanel played with all through her career as a fashion designer. On the Web site, you can watch Chanel master perfume as he walks through the history of the legendary fragrance, and explains how it came to be, from the design of the bottle, to the large amount of jasmine flowers and special use of aldehydes used to create the luxurious scent.
The endurance of Chanel N°5 is attributed to the fact that each woman who wears it adds a bit of herself to the scent, allowing Chanel No. 5 to withstand the test of time.
Chanel N°5 has been a part of pop culture from Marilyn Monroe who claimed to wear nothing but two drops of Chanel N°5 to bed to artist Andy Warhol, who immortalized the iconic perfume bottle in his art.
The latest woman to wear Chanel N°5 is French actress Audrey Tatou. In a new film, by director Jean-Pierre Jeunet, Audrey catches an old-fashioned sleeper train and finds love. Her male counterpart seeks her out through her signature scent as the train barrels to her final destination. Once she arrives, the couple finally meets and embraces as he is attracted by her scent.
Audrey was chosen because she is so able to convey emotion, without ever saying a word. Under the careful direction of Jean-Pierre, the range of emotions invoked by Chanel N°5 comes alive.
The film itself and the behind the scenes legends of the famous fragrance are almost as glamorous as the scent itself.
For LxM Carly Zinderman