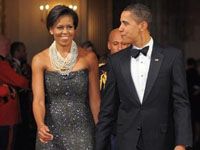 News & Trends:
You could call them fashion's best kept secrets-designers whose talent and passion have led to rewarding careers, who are quietly revered by the press, buyers and celebrities alike, but who, for whatever reason, have always remained firmly below the radar. Designers like Peter Soronen, who, after a decade as a bespoke designer, has only just stepped into the spotlight thanks to Michelle Obama's seal of approval. Or J Mary, an LA-based designer whose work is sold in Maxfield and worn by Ashley Olsen and Janet Jackson, but whose name would draw blanks from even the most sartorially aware.
A straw poll of fashion insiders reveals that this club has more members than one might imagine. "A brand that comes to mind immediately is Boudicca," says London-based personal shopper Alexander Lewis, who also reports on menswear for personal style network Checkyoudaily.com. "It's a great brand, long standing in the fashion industry with incredible product. The company has been steadily bubbling away in the pot of fashion, yet somehow has never reached boiling point."
Fellow Check You Daily contributor and retailer Desiree Kohan names Juan Carlos Obando as her underground sensation of choice, while Atelier's Karlo Steel identifies Carol Christian Poell as a designer whose 13-year-old line lingers in relative obscurity, even though it "has a fanatical cult following, is carried in some of the best shops in the word and is worn by Jude Law, Brad Pitt, Seal and John Mayer." Others dropped names that are recognizable-Yigal Azrouël, Isabel Marant, Rogues Gallery, Eileen Shields-but whose notoriety pales in comparison to some of their contemporaries.
Although they're doing everything right, why haven't these brands received the fanfare they deserve? For most of the mentioned labels, it's because they don't really want it. "I am small by choice and am not designing for fanfare-rather I design for women!" admits Peter Soronen. "My goal has always been to dress women so they look their best for that important event. I want them to receive attention when they walk into the room."
Shoe designer and TenOverSix co-founder Kristen Lee agrees, claiming "I don't think staying 'underground' is necessarily a bad thing, and in many instances, is a choice to stay cool, to stay special. The question for the designer is how to make money doing this." Adds Kohan: "Juan Carlos Obando is still a 'secret' because of his exclusivity. His marketing strategies make him a press darling, but he's hard to find in the retail realm, which I believe to be a good thing. He's exclusive to Des Kohan on the West Coast and his under-the-radar charm makes his collection more desirable."
Even so, a vast number of lesser-known designers don't have the luxury of choosing to remain small. "While there is a lot of focus on emerging designers in some parts of the business, picking favorites is rife across the globe," says Lewis. "Some designers and brands have to forge ahead for years without serious recognition, but some find their names in lights only after one or two seasons. That shift is all down to those at the top."
So what's an underrated designer to do if they haven't yet received Anna Wintour's blessing? First, and perhaps most obvious, is to focus on the product. "If the brand has the ability to do what it does better than anyone else, they will prosper with time," notes Lewis. Self-promotion is also key, according to Cristy Turner, Creative Director of Forward. "Reaching out to key bloggers and style sites is so important in building buzz and getting noticed," she says. "Buyers, stylists, tastemakers and potential customers all check out who's talking about who and what's next in fashion."
On a similar note, Atelier's Steele suggests: "Play the social aspect of a designer to the hilt!," while Kohan suggests taking a "grassroots approach" to building buzz through trunk shows and meet-and-greets. "You can be under the radar to most of the world, but make sure the right people know you," she says. But proceed with caution, warns Lee: "I've seen many rising design stars get too big too fast, and go from being indie-cool to very contemporary and mainstream. I think those brands experience growth and 'success' in the short term, but may not last because they lose their original customer base and become something entirely different." Somehow, we have a feeling those mentioned above won't need to worry about that.
Jason Campbell
Editor-in-Chief
JC Report
JustLuxe
Contributor
Mary Kate Olsen in J Mary
Michelle Obama in Peter Soronen, Getty Images
Boudicca
Juan Carlos Obando
Carol Christian Poell