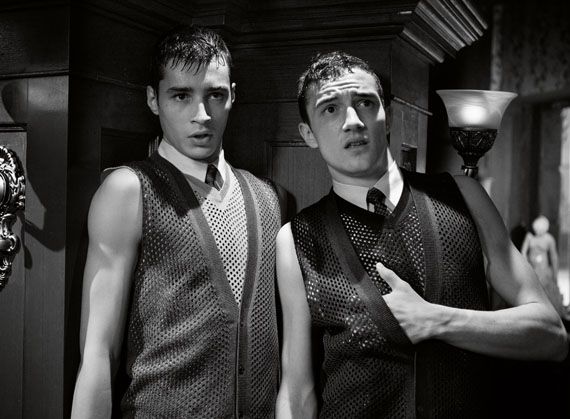 News & Trends:
'First Spring' is Prada's latest collaboration with pioneering Chinese artist Yang Fudong. Featuring young men gathered in Shanghai, dressed in
Prada
menswear, the 9-minute black and white film portrays a timeless, dreamlike realm where anything is possible.
Inspired by the promise and opportunities of anew decade, Prada are excited to announce they have agreed with Fudong that the art project will officially become the Spring/Summer 2010 menswear advertising campaign. The film will debut exclusively across digital platforms from early February.
Prada are proud to be launching this innovative new campaign concept with Fudong, who is among the most interesting and influential Chinese artists working today. As Hans Ulrich Obrist , the distinguished curator and critic, observed of Fudong's acclaimed film series Seven Intellectuals "it is a portrayal of modern Chinese intellectuals' ambiguous and multiple -meaning status; it's their aspiration for individual freedom in the course of the current society's development into a capitalist one."


Inspired by the Chinese adage that "the whole year's work depends on a good start in spring," this bold and beautiful film represents an exciting new direction for Prada's visual communications at the start of this decade.



'First Spring'
Whatever should happen --- the beautiful, the fantastic, the dreamlike …
A few young men are in Prada menswear…
As if in Shanghai of the 1930s or 40s, As if in cafés, ballrooms and backrooms in the dark of night, in all the merry places…
Whatever should happen would happen….
In the streets, in the crowds, you meet Chinese of different classes, from different times; like people in utterly different worlds, but meeting in Shanghai dozens of years ago….
Whatever should happen would always happen …
In the sky over this city,
They still see they're walking under the parasols …
Dangerous beauty… promising beauty …
Whatever should happen …
Everything in the spring depends on …
A good start in the spring …
~Yang Fudong





By Katelyn Lehman