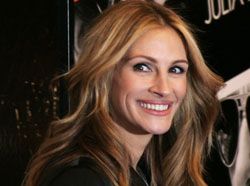 News & Trends: Her latest role has little to do with costume changes and more to do with beauty, as Julia Roberts is the Lancome's Global Ambassador for its luxurious line of skincare and beauty products.
In an interview with
WWD
, reportedly peppered with signature guffaws, Julia talked about her new role with Lancome and what it will entail.
"I think I have to stand up straighter and wash my face more," Roberts laughed.
"It's kind of like every girl's dream, really," she continued, referring to her role with the L'Oréal-owned brand. "To be 42 and have three kids and be a working mom, it's a great moment to be asked to do this and to be able to do it. I think it says a lot about Lancôme and what they stand for."
Lancôme International's president, Youcef Nabi, had an immediate rapport with Julia and is impressed by her hands-on approach.

"Julia really wants to be involved in the development of the products," said Nabi.

No word on how much Julia will net from the deal, but it is rumored to be in the $10-$15 million range.

The first advertisements, for Définicils Precious Cells Mascara in the U.S. were shot by Mario Testino in a private apartment in Manhattan are set to break later this year. A TV ad is also set to appear, but has not yet been finalized.

Of switching from mom to beauty icon, Roberts says, "I think the nice thing about getting older is it forces you in a way to take a greater interest in your [beauty] regime. And so it's a good moment for me to join forces with people who can help me."