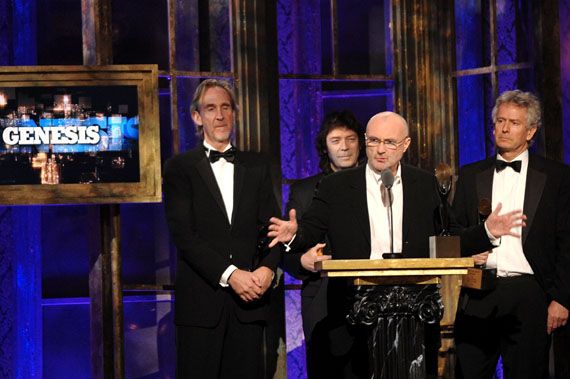 News & Trends:
It may seem incongruous to mention Genesis, ABBA and The Stooges in the same breath since the three music legends have written and performed vastly different genres of rock but on Monday, March 15, 2010, all three bands shared accolades as they were inducted into the Rock and Roll Hall of Fame at New York City's historic
Waldorf Astoria
hotel.
"Roll over Woodstock," yelled Iggy Pop, front man for the Stooges, "we won!"
Born in Ann Arbor, Michigan, in the 1960s, The Stooges were the Midwest's answer to flower power, performing raw anthems of rage and lust. While the band has influenced hundreds of other performers from Green Day to Nirvana to The Strokes, Pop never believed it would be inducted into the prestigious rock club.
"It's like high school has come back to haunt you," he said when asked why it took so many years and nominations until the Hall of Fame committee selected The Stooges as 2010 inductees.

English rockers Genesis were the night's first inductees, honored by Phish for their progressive music. But founding member Peter Gabriel didn't join Phil Collins and the rest of the band onstage. When asked backstage about his whereabouts, the band members looked visibly irritated, with Collins off-handedly stating that Gabriel was working on a tour.

ABBA's Anni-Frid "Frida" Lyngstad and Benny Andersson were moved by the occasion, honored to be the first non-English speaking band to be inducted, even as some music snobs were up in arms about its inclusion.

"It feels good that so many musicians from different categories like us," Anderrson said, even as he playfully joked about the Swedish band's flamboyant past. "We had some nice costumes in the 70s."

Other inductees included 60s icons The Hollies, reggae legend Jimmy Cliff and record executive David Geffen. Songwriters Barry Mann, Cynthia Weil, Ellie Greenwich, Jeff Barry, Jesse Stone, Mort Shuman and Otis Blackwell were also honored.

By Shandana A. Durrani

Inductee David Geffen and musician Jackson Browne (WireImage)

Inductees Benny Andersson and Anni-Frid Prinsessan Reuss of ABBA (WireImage)

Billie Joe Armstrong of Green Day and Iggy and the Stooges (WireImage)

Jimmy Cliff and Wyclef Jean (WireImage)

Musician Steven Van Zandt (WireImage)