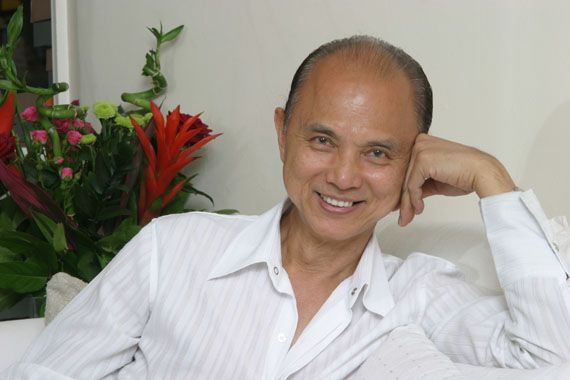 An Interview with Jimmy Choo:
I'm on my way to meet
Jimmy Choo
wearing the nicest pair of heels that I own. Sadly, they have not been designed by the man himself, but I'm hoping that to one of the world's most renowned
footwear
creators who has worked with royalty and celebrities, they will at least be acceptable.
I totter my way around Bayswater, London, where I will be meeting Choo in his joint-owned chic Maximini Restaurant, which features delicious Malaysian cuisine on the menu. I'm attending an exclusive press event where the 49-year-old will be promoting his home country of
Malaysia
as a holiday destination for where he has been the Tourism Ambassador for one year in August.
I obviously recognise Choo straight away and he greets me with a warm, friendly smile. It's not obvious to tell if he's checked out my shoes, and he doesn't mention them, so I take this as a polite sign of him not wanting to draw attention to them. Or maybe even Choo takes time off from thinking about shoes. We're then left for our 20-minute interview during which I get to see a glimpse of the ethos that has made Choo the man he is today. He's polite, funny, charismatic, but most of all, he's humble and gracious - and our interview over-runs by a further 20 minutes as we delve into everything from his past to his present.
Having made his first shoe aged 11, he then trained in London and graduated in 1983 and opened a workshop in 1986. He shot to fame just two years later when Vogue magazine dedicated eight pages to the award-winning designer, who was spotted by Princess Diana, for whom he worked for seven years. Today, after selling a 50% stake in his shoe design company in 2001, Choo, now an OBE - is concentrating on the exclusive Jimmy Choo Couture line, keen to give something back. He is also involved in a project to set up a shoemaking institute in Malaysia.



Why is Malaysia a good country to visit?
Because it's a modern country and it's a British colony as well. The people speak English, more importantly the people are friendly. If you talk to them, they will talk to you and be kind to you.

What does the capital have to offer?
Kuala Lumpur is very modern - you don't feel as though you are in a different country. It caters for everybody. You can pay for very expensive food or pay a few pounds for good food - if you want to spend £1,000 you can spend £1,000.

Does the country have good shopping facilities?
There is great shopping in Malaysia especially in Kuala Lumpur. If you want to buy Louis Vuitton, Christian Dior, Gucci or even Jimmy Choo they are all there, all the big brands.

What would you recommend to do on arrival to Malaysia?
First, you have to rest, then you must go to the spa in the Ritz-Carlton Hotel then you can really relax. Then you must try the local food, but try not to eat too many spices on the first night.

What's your favorite food?
I like chicken rice. If you go to Kuala Lumpur, go to Lot 10 shopping mall, then go to the food court. They have the best chicken rice in there. They have a great choice of local foods. There is a lot of choice of food in Malaysia We have Malay food, Chinese food, Indian food.

What's your favorite part of Malaysia?
I love my hometown which is Penang. The Shangri-La Rasa Sayang Resort is the best hotel to stay at. I also love Pangkor Laut an island with just one resort - that's my favorite part because it's very quiet. The staff are very good there. They have good manners and are very well trained. I always go back home. I always visit my country.


Why were you chosen to promote your country?
They believe that I am the right choice to represent Malaysia. In a survey of people in my country, they asked, "Who do you trust?", and the people said me. I am very proud of that. I have to pay thanks to my country. We have to unite together to make our country strong.

Why is it important to you to promote the country?
Because I want to give something back. On a recent trip home, I found out that I'm in the school history book. My name. It makes me very proud. If you learn something good, you must give back the skills. It's a chance to let people know about education.

What's next for Jimmy Choo?
I want to be a good teacher. I want to tell people about Malaysia. I want to concentrate on training new people, don't let the trade die down, helping people to study. It's very important to let people to know about the tradition.

Who would you most like to dress?
I met Beyonce, I went to see her at a concert. She danced well, she dressed well and had very good manners. I would like to design something for Beyonce.

What's the secret to success?
Very important to have patience. Second is to love what you do.

By Carol Driver