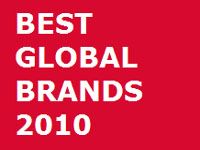 News & Trends:
Louis Vuitton is the top luxury brand according to the results of Interbrand's annual 100 "Best Global Brands." Interbrand, a major brand consultancy firm to many of the world's largest companies with worldwide following, announced its results this week.
Louis Vuitton
, a subsidiary of LVMH, ranked number 16 overall. Other luxury brands in the top 100 included Gucci (#44), Hermes (#69), Tiffany & Co. (#76), Cartier (#77), Armani (#95), and
Burberry
(#100).
Financial performance, role of brand in purchase-decision process, and strength for the brand to continue to be profitable were key criteria in determining the rankings.

Jez Frampton, group chief executive at Interbrand, said, "2010 was the beginning of a long road back toward economic recovery. From real-time customer feedback through social media to increased transparency about corporate citizenship, brands were faced with a profound change in the way they relate to customers and demonstrate their relevance and value. Despite this new paradigm of brand management, the advantages of building a solid brand remain the same."

While automobiles and luxury companies were categorized separately, Mercedes-Benz, which ranked 12th overall, was the top luxury automobile brand. BMW was second at 15th place. Other luxury automakers included Ford (#50), Volkswagen (#55), Audi (#63), and Porsche (#72).

Coca-Cola topped the list for the 11th consecutive year, while IBM and Microsoft rounding out the top three. Other notables on the list include Google in fourth place and Apple at number 17.

See the entire Interbrand's 100 'Best Global Brands' at www.TheBestGlobalBrands.com.