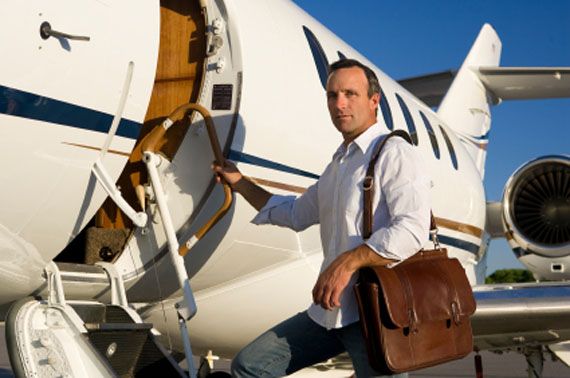 Airlines:
Air charter companies such as Air Partner see more demand as commercial
airlines
eliminate the convenience of first class.
Heading into 2011, business travel is leading the revival of the aviation industry but commercial airlines are not returning the favor. Route cancellations and seat cuts are leaving executive travelers in the lurch and searching for alternative options.
According to Air Partner, the world's leading global air charter company, this is fueling a rebound in private aviation as air charter emerges as the unlikely winner.
Route cuts and premium seat reductions by commercial airlines are leading many business travelers to turn to the unlikely private air charter for their business travel needs.
Starting in 2008, major commercial airlines canceled flights to nearly 100 communities across the United States. Southwest Airlines has canceled 3.4% of its scheduled departure routes out of Dallas heading into fall of 2010. Mergers such as those between Continental Airlines and United Airlines further eliminate routes as the United inherits Continental's routes. Now instead of two major carriers going from Boston to LA, there is only one.
Airlines are expanding their Economy classes and now some of them are adding a Premium Economy seating class in lieu of traditional first class. For example, United Airlines eliminated 20% of its international first class seat count in 2009 and has further chopped up its first class seats in favor of adding the Premium Economy class. This is causing a limited availability and increased competition for premium business and first class seats.



Commercial aviation is finally making a profit in the wake of the recession but airlines are hesitant to add back routes or first class seating that had been previously removed. According to a report by IATA, demand has shifted with leisure and business travel on the rise at a flight traffic growth of 11% in the month of September, but rather than reinstall more first class seats, they continue to be eliminated. First class passengers and business travelers are finding that the convenience they once experienced flying commercially has disappeared.
Air charter is able to fully accommodate the first class passenger in ways that commercial airlines are no longer able, namely convenience, flexibility, and the ability to arrive at any remote destination. There are roughly 5,000 public use airports in this country. Commercial airlines use about 500 of them whereas private air charter can get to all 5,000.
Private jet use is up 12.1% so far this year according to Aviation International News. Air Partner, a global leader in private aviation has seen a rise in shares 18.7% since September. What's more, a surplus of business jets in the market has brought costs down and has lowered the barrier for many first class passengers to afford private air charter. This can make it an economical choice, particularly for businesses sending a team of employees on the road.
"This really is the perfect storm for air charter,says Phil Mathews, president of Air Partner, the continuing difficulties faced by executive travelers who fly commercially only adds to the value of private aviation."
Where first class is being relinquished by commercial airlines, private jets are scooping up those customers and becoming, essentially, the "new first class."