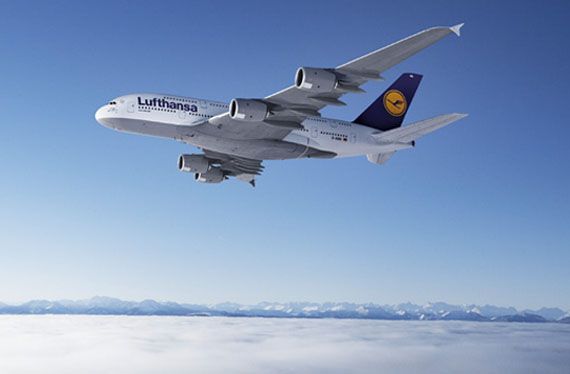 Photo Courtesy of Lufthansa Airlines
Flying was once glamorous. Well-dressed flight attendants catered to your every need, sans attitude and with nary a hair out of place. Seats were roomy and cushy and one felt invigorated rather than exhausted once disembarking.
In recent years, it has become anything but, with surly staff, charges for checked luggage and seats that resemble veal-fattening pens. Enter the A380, a behemoth of a plane that affords flyers more leg room, space and amenities than your average 747s or 777s.
Lufthansa Airlines
has the most luxurious A380 of any airline. The German carrier has four in its fleet with an additional 11 due by 2015. The newest addition is A380 service from
New York
's JFK to Frankfurt, Germany.
The A380 is 239 feet long, with a wingspan of 261 feet. How does that translate for passengers? That means more leg and elbow room in coach, a larger, roomier cabin in business - 88 seats in all - and an ultra-luxurious eight-seat first class cabin.
First class features suede walls, noise-cancelling cabin partitions and floors, an automatic air humidification system, private full-length lockers, ergonomic mattresses, Perkal sheets and full flat beds that are almost three feet wide and seven feet long, the largest in the airline industry.
Bathrooms are lounges in and of themselves, with separate commodes and seating areas so that first-class passengers can change into Van Laack pajamas easily. Customers enjoy cuisine from Michelin-starred chefs. Lufthansa actively tested their first class prototypes for two years, asking customers what worked and what didn't.
The A380 proves that the days of glamorous flying aren't over. They've only just begun.
See our picks for
Best Luxury Airlines