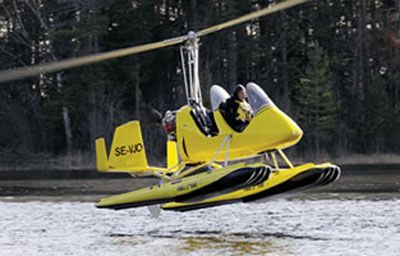 This small aircraft is a plane with an overhead propeller and it's not a helicopter. It is the placement of the propeller that leads people to that first impression on these small two-seat
aircraft
.
AutoGyro USA is the seller of these made in Germany mini planes that possess the ability to fly low and the maneuverability to nimbly enter zones that neither conventional planes nor helicopters could do.
While it would not be hard to envision one of these tiny flyers as a complementing accessory to a
mega yacht
, these mini planes actually are serious flying machines used a lot by law enforcement and military agencies internationally.
It is surprising to find that there is only one police department in the entire U.S. that uses one of these innovative airplanes that weighs less than 600 pounds, cruises between 95 and 110 mph and flies as low as 30 feet. According to AutoGyro, the only one in the U.S. is at the Tomball Police Department in the state of Texas. The department has an MTO Sport model on duty.
Chief of Police Robert Hauck, in an interview broadcasted locally on TV station FOX 26, said that two officers up in the aircraft is the equivalent of having 20 policemen on the ground. Chief Hauk also went on to say that the $75,000 price of the aircraft is very cost-effective, especially when compared to a $4 million helicopter.
The aircraft, which is shipped from Germany to
AutoGyro USA
's facility at the Bay Bridge Airport in Stevensville, MD, is available in a second model, the Calidus, that comes with a canopy and is priced at $89,000. The MTO Sport model does not come with a canopy.
Photo Courtesy of AutoGyro USA