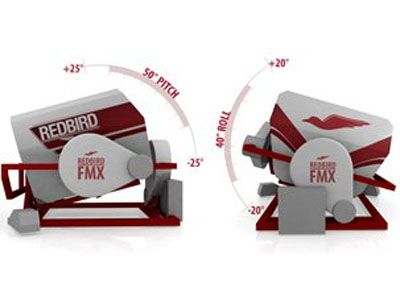 The results of a study recently issued by a pilot training center indicates that one hour spent in a flight simulator by a student pilot is the equivalent to spending more than two hours in a real
airplane
. The information comes from Motion Simulations, a Danbury, Connecticut-based pilot training center that educates its student pilots in a Redbird FMX flight simulator, as well as in real aircraft.
The company provides aspirant aviators individualized flight training in a full-motion simulator and the student's airplane or one of its own aircraft. Meshing two training concepts seamlessly into one program, the school's mission is to enrich the training experience tenfold with its new techniques.
While it differs greatly from traditional fixed-base operator flight schools, the instructors at Motion Simulators are highly experienced aviation professionals who are either ATP-, CFII-rated pilots or both. ATP (airline transport pilot) is the highest commercial certification. CF and CFII certifications also are commercial designations.
Student pilots are trained in a Redbird FMX flight simulator that imitates five aircraft configurations. Special features on the tech-rich simulator include wrap-around visuals with six monitors and a fully enclosed cockpit. This system immerses a new pilot into a simulation with zero outside distractions. With an intercom system compatible with standard pilot headsets, the new pilots can practice radio skills and execute reconfigurable constructions while in motion.
It is understandable how encountering an instrument panel malfunctioning, fog rolling in or smoke filling up in the cabin for the first time under simulated conditions could enrich the training of student pilots. It also is cost-effective and less time consuming too. There are no in-flight hang-ups in a flight simulator.
Photo Courtesy of Motion Simulations