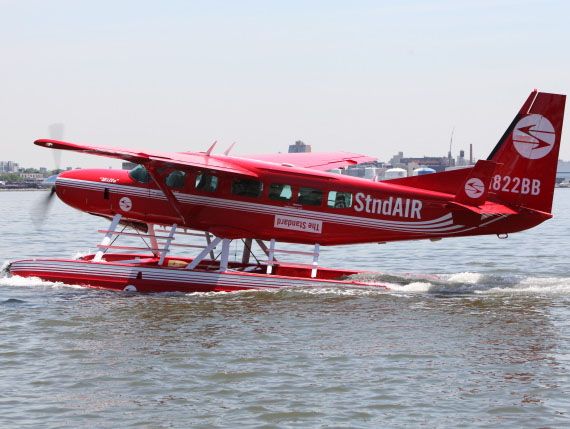 Courtesy Standard Hotels
He dated Uma Thurman, appeared in a Louis Vuitton campaign, made the International Best Dressed List and brought the famed Chateau Marmont back to life. Now hip hotelier Andre Balazs has launched his own airline, StndAIR. For now the fleet consists of a single seaplane, but if we know Balazs it will eventually become the next JetBlue. The name is a reference to his Standard Hotels, which include The Standard, Hollywood; The Standard, Downtown, LA; The Standard Spa in Miami; and The Standard, New York.
The chic 8-passenger craft will leave from the 23rd Street seaplane base on New York's East River, offering hassle-free travel to the summer's most desirable destinations. Service includes charter flights within a 300-mile radius of New York (Nantucket, Martha's Vineyard, Cape Cod, Hudson Valley) and regularly scheduled flights to the Hamptons and Shelter Island during peak periods. StndAIR will provide a "cheeky and fun" flight experience that includes Balazs' own-label Rosé wine, Swedish Fish and a Standard flight greeter at departure and arrival.
With service slated to run through October 10, the plane is available for the public, as well as guests of the Standard New York and Balazs' Sunset Beach hotel on Shelter Island, who will be offered special room package / flight deals. StndAIR passengers can also book flights to the Hamptons and beyond via a unique, social booking platform called the Flight Board. Check it out at www.stndair.com.