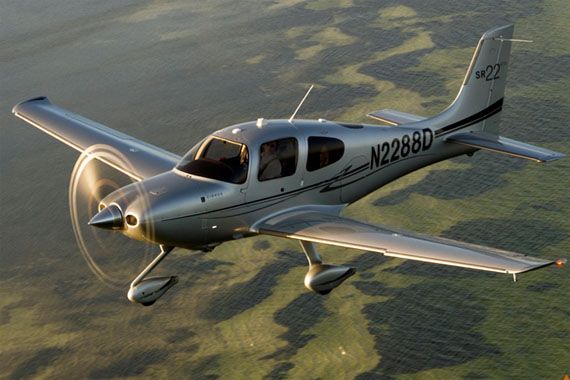 Photo Courtesy of Cirrus
Flying Magazine
has named the 2012 Cirrus SR22 single-engine-piston
aircraft
the "Most Sophisticated Single … Ever" in a cover story that chronicles the history of the storied airplane from the first delivery in 1999 to the 5,000 units in 2011. The Duluth, Minnesota-based personal-aircraft manufacturer has delivered airplanes in more than 60 countries. 
"This is an extraordinary and prestigious recognition for Cirrus employees, owners and operators around the world," said Dale Klapmeier, CEO of Cirrus Aircraft. The Cirrus SR22 has been the best-selling four-place airplane worldwide for 10 consecutive years. The firm pioneered the FAA-certified Cirrus Airframe Parachute System (CAPS), which is standard equipment on all the company's aircraft. The CAPS has saved 50 lives since being installed in Cirrus aircraft. The SR series, which consists of the SR22 and the SR20, have logged more than 5.5 million flight hours.  
This year Cirrus added several new features on all its aircraft, such as 60/40 Flex Seating and Perspective Global Connect. The former makes the backseat area wider and accommodating for up to five passengers. The latter is an avionics-system upgrade that provides access to the on-demand Iridium satellite network. It provides worldwide weather reports, a satellite phone, texting, and email messaging.  
"When Cirrus started, we dreamed of building airplanes that [would] make people's lives easier and better, and we continue to improve upon that dream," said Klapmeier. "This latest validation of our efforts by one of the leading authorities in general aviation is a source of pride that builds even more momentum as we head into what is traditionally a very busy time of the year for flying. And it also inspires us as we accelerate our progress on the Vision Jet." For additional information about Cirrus, visit the company's website at
CirrusAircraft.com
.