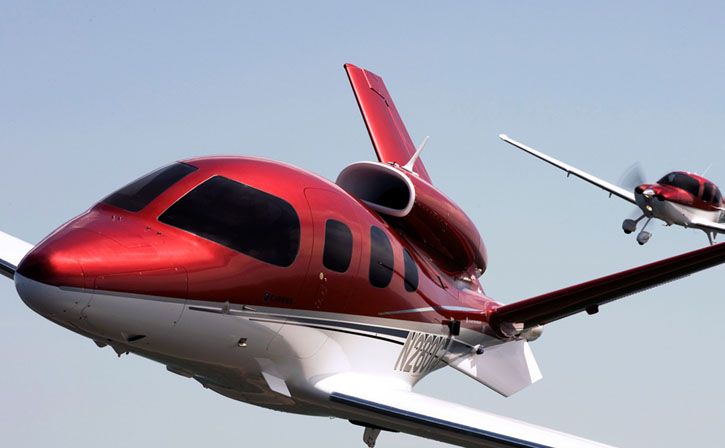 Photo Courtesy of Cirrus Aircraft
Private aircraft manufacturer
Cirrus Aircraft
announced today that it expects to make the first delivery to an owner of the Cirrus Vision SF50 in 2015. The new aircraft is reported to be in a niche of its own that lands somewhere between piston single and twin models and VLJs (very light jets). 
The firm renowned for the safety record of its planes is booking reservations for the Vision SF50. "Revolutionary" and "evolutionary" are the company-designated adjectives used in the marketing of the private jet.
"Today is simply a tremendous milestone for Cirrus," said Dale Klapmeier, CEO and cofounder of Cirrus Aircraft. "We revolutionized general aviation with the introduction of the SR20 just over a decade ago."
"With more than 5,100 SR-series aircraft delivered to date, pilots, entrepreneurs, families and aviators of all kinds have embraced our dream. Today, that dream is renewed as we are on the cusp of an even bigger leap with the Cirrus Vision. Cirrus customers, employees and partners around the world are rightfully proud of this moment."
The SF50 takes off with 1,615 feet of clearance and is capable of clearing a 50-foot high obstacle in 2,128 feet. The private jet is about 31 feet long, 10.5 feet tall, and has a wingspan of more than 38 feet.
The cabin is around five feet wide and four feet in height. Its maximum cruising speed is 300 KTAS (knots true airspeed), which is approximately 259 IAS (indicated airspeed).
A Williams International FJ33 engine powers the Cirrus Vision SF50 private jet, which also contains the lifesaving Cirrus Airframe Parachute System and the Cirrus Perspective by Garmin. For more information on the Cirrus new aircraft, visit
CirrusAircraft.com
.