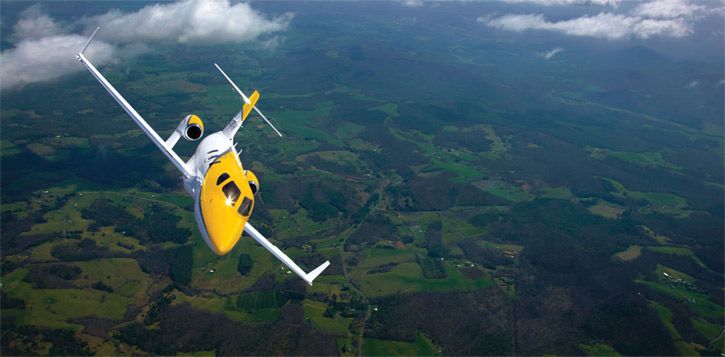 Photo Courtesy of Honda
The HondaJet truly is a vision in the sky. The five-passenger light jet offers up very impressive all-around performance numbers as well. Since it only needs 3,120 feet for takeoffs and 2,500 feet to make a landing, the
luxury private jet
is able to access more than 10 times the number of airports that are accessible to commercial-size planes. It is attributable to Hondaís patented over-the-wing-engine mount, which substantially reduces drag at high speeds and improves the cruising efficiency of the aircraft.
Hondaís high-tech engine design, a full-authority-digital-electronic-control system (FADEC), also is a first for a light jet of this size. The engineís high-thrust-to-weight ratio allows it to go further with heavier loads.
Powered by a GE Honda/HF 120 turbofan engine, the jetís maximum cruise speed at FL300, or 30,000 feet above sea level, is 420 knots. Additionally, the light jetís service ceiling is 43,000 feet, and it ascends at 3,990 feet per minute.
The HondaJetís easily configurable interior is simple and luxurious. The aircraft seats five passengers plus pilot and co-pilot, and can be rearranged to seat six. The length of the plane is nearly 42 feet; its height is 13.21 feet.
The cabin height is 4.94 feet, and the width of the cabin is five feet. The length from forward bulkhead to aft bulkhead is 17.8 feet, and there are 57 cubic feet of aft baggage space with nine cubic feet of baggage space at the front. This innovative light jet is a heavy-duty performer that is raising expectations of light jets to higher levels. For more information, visit
HondaJet.com
.