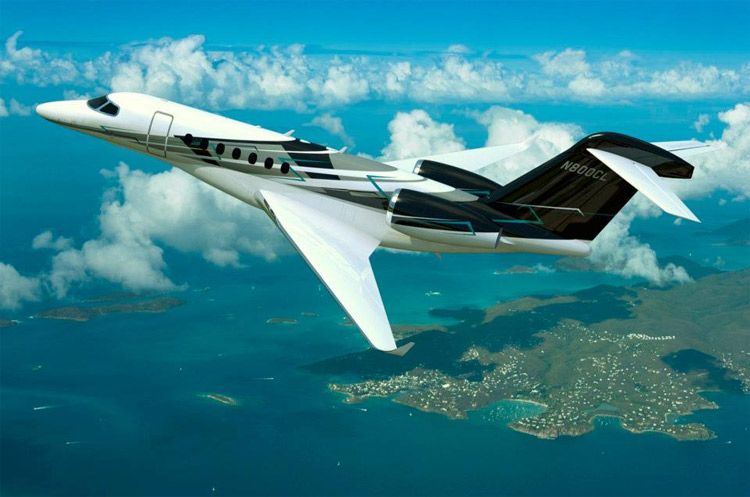 Photo Courtesy of Cessna
The Cessna Aircraft Company recently introduced its newest and longest-range
business jet
, the Citation Longitude, at the European Business Aviation Convention and Exhibition (EBACE), in Geneva, Switzerland, which was held May 14-16, 2012.  
The new business jet, with a 4,000 nautical-mile range and a maximum speed of Mach .86, will be priced at around $26 million. It is expected to enter in to service in 2017. Cessna claims its new midsize business jet will be the best value, 4,000-nautical-mile super mid-size business jet available.
"The Citation Longitude sets itself apart with the largest Citation cabin, intercontinental range and a price point unmatched by other business jets with similar performance," said Scott Ernest, Cessna president and CEO. This super mid-size jet sets a new standard for cabin efficiency, connectivity and stylish comfort."
Two Silvercrest engines, with 11,000 pounds of thrust, will power the eight-passenger business jet. Cessna selected these motors for fuel-efficiency, light weight, and lower maintenance costs. "We are thrilled to bring the Silvercrest engine to Cessna customers because of its best-in-class efficiency, reliability and quality," said Mr. Ernest.
"This engine is expected to take the Citation Longitude to a new level and give our customers the range, efficiency and noise-reduction they need to be successful in today's competitive environment."
The aircraft will have a maximum overall width of 86 feet and a maximum overall length of 87 feet. The new gently swept wing and advanced winglets will provide greater range for the aircraft. The company's patented intelligent cabin technology, Clarity, will be standard on the Citation Longitude. For more information, visit
Cessna.com
.