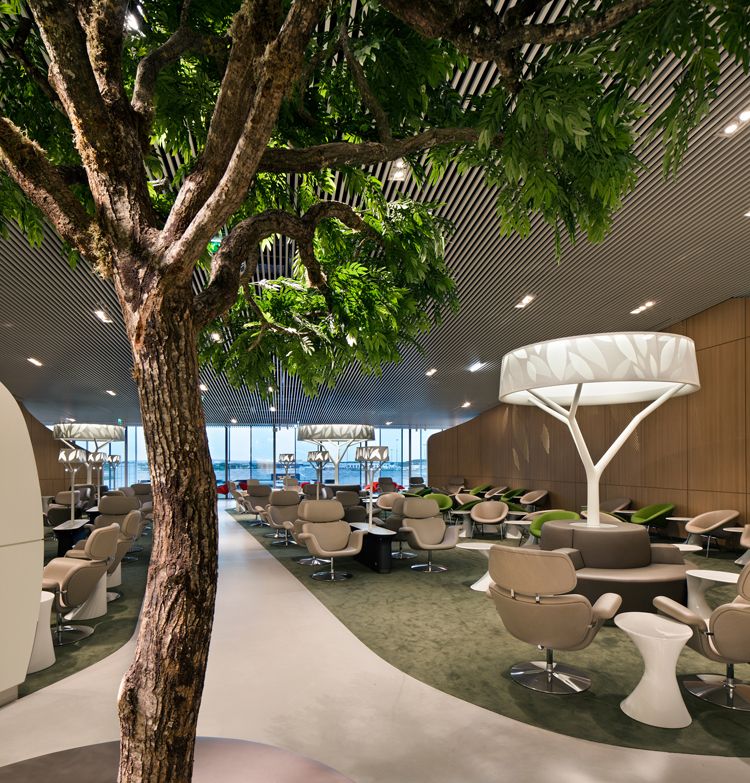 Photo Courtesy of Air France
While airport lounges can be notoriously dreary places to wait for your flight, Air France has introduced a new
business class
lounge and satellite building at Paris-Charles de Gaul airport, which promises to help get outside of the usual airport rut. Inspired by nature and public parks in particular, the new business class lounge spans 3,000 sq. m and encourages passengers to relax, enjoy a snack, work, read and enjoy entertainment in various spaces.
Designed by Brandimage in cooperation with Noé Duchaufour-Lawrance, the new lounge is a comfortable place to await your flight. The spacious accommodations include areas designated for both work and play, including a hot meal service, a Clarins wellbeing treatment area, and workspaces offering digital tablets and computer stations. There is seating for 620 people, scattered into separate table and chair areas.lltitle=Air France's New Luxe Lounge### llcontent=Airport lounges are usually pretty dull, a place you have to endure to get from one place to another. Air France is planning on changing that with their new luxury business class lounge, which allows you to relax and enjoy yourself while waiting for your flight.
The organic theme of the lounge is highlighted by predominately neutral colors of green, ochre, and soft, bright lighting. The materials used in the transformation are also natural-looking, including perforated wood, overstitched leather and Corian.
Determined to transform the airport experience from humdrum into extraordinary, the Clarins lounge offers a free of charge spa experience. Three cabins are devoted to passenger relaxation with beauticians on hand to provide face and body treatments. There are also 10 shower stalls stocked with Clarins products for customers to freshen up before a flight.
Rather than your typical airport fare, the Air France lounge is stocked with French cuisine staples such as bread, cheese and pastries. You can also serve yourself Champagne and other spirits, as well as indulge a hot or cold snack at the pasta and risotto bar or the salad bar.
The new Air France lounge is just part of the renovations taking place at Paris-Charles de Gaul airport to make flying a more pleasurable experience.
For more information visit
Corporate.AirFrance.com