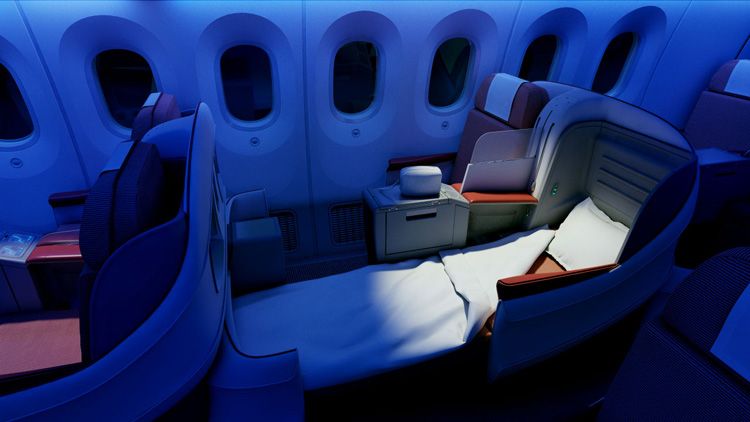 Photo Courtesy of LAN Airlines
Many of us love to travel, but getting to our destination via airline can leave us overwhelmed and exhausted. Is it the long, nauseous hours spent in the air trying to desperately pop our ears, or is it perhaps the rock-hard, uncomfortably upright seats that never seem to have enough leg room? Whatever it is that leaves you weary simply from the thought of flying, LAN now has a way that you can experience an enhanced and enjoyable travel experience without any of the usual discomforts.
airplane
This August, LAN was the first airline in the Americas to receive the first Boeing 787 Dreamliner, with plans to add 32 additional 787's to it's fleet over the next ten years.
When discussing the $4.9 billion order (the largest investment in airline history, according to the company), LAN Airlines' CEO, Ignacio Cueto, explains, "This is not only a milestone for LAN, but also for all of our passengers that will experience an enhanced LAN in-flight experience thanks to the cutting edge technology and visionary elements of this new aircraft. The Dreamliner will make it possible for us to cover greater distances in a more environmentally conscious and highly efficient aircraft which will help ensure our sustainable growth."
airplane cabin
As part of this upgraded experience, passengers will be able to enjoy the warm colors and inviting textures of the cabin, inspired by South American design. One of the new features on the aptly named Dreamliner is the 100% horizontal, full flat seat that includes a lumbar massage, ensuring quality comfort and relaxation for those flying Premium Business class.
Onboard entertainment also received an upgrade, with high-definition screens that use the latest touch technology, as well as data ports that are compatible with all Apple devices.
airplane taking off
With LAN Airlines' commitment to customer comfort and satisfaction, the Boeing 787 includes auto-dimming windows to accommodate the passenger throughout all stages of their voyage. The aircraft also features larger windows allowing for more visibility during the flight, along with overhead bins with 30% more storage space (say goodbye to cramming in your carry on).
If it's turbulence that gets your heart racing and has you contemplating cancelling your travel plans altogether, then it's time for you to experience the Boeing 787 with its improved aerodynamics that promise to reduce the amount of turbulence you experience.
lan cabin
According to LAN, the 787 produces 20% less CO2 emission than a similar aircraft, yet another aspect of this aircraft that allows for peace of mind. With flights to Santiago, Buenos Aires, Lima, Los Angeles, Madrid, and Frankfurt, it looks as if it's about time to plan your next vacation.
For more information visit
LAN.com
.