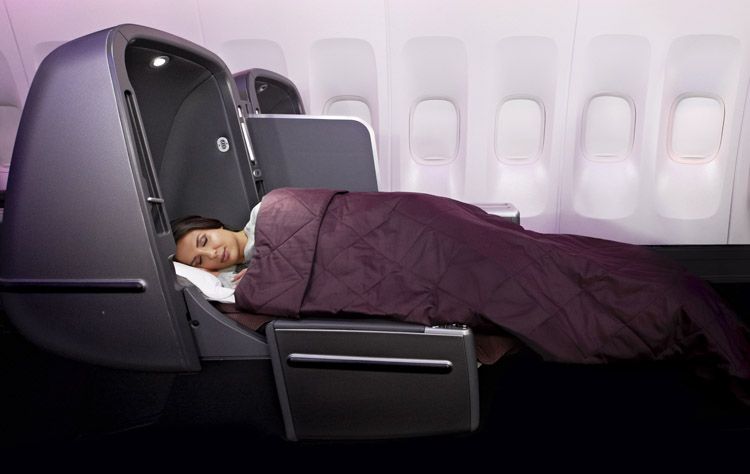 Photo Courtesy of Qantas
If you're anything like me, sleeping on an airplane is pretty tough and just forget it if it's an international flight. The air pressure never fails to give me a migraine and my ears get knocked out of sync, which lasts long after I deplane. Without a sleeping pill to kelp knock me out, I just spend the long hours of the flight staring at the sleeping bodies around me, bitter and jealous of their peaceful expressions. Thankfully, not all airlines are oblivious to my discomfort and Qantas Airways have added quite a few perks to their international Business service to help all of us pass out peacefully.
"Qantas is focused on putting the customer at the center of everything we do, making Qantas International best for global travelers. This means listening to our customers, understanding why they fly with us and providing the best service we can," says Qantas International Chief Executive Officer Simon Hickey.
Qantas is trying to make sleeping on board as close to sleeping in your own bed as possible. One of the most notable improvements to Business class is a mattress pad that is added to the existing Skybed on all international flights and instead of those standard blankets, you'll be offered a fluffy duvet. Customers will also be given an exclusive Kate Spade New York and Jack Spade amenity kit, including a variety of luxury Malin+Goetz skin care products, an eye mask, ear plugs, socks, and biodegradable toothbrush and toothpaste. The kit for women is a slim travel pouch with a City Lights print by Kate Spade New York and the kit for men features a modern travel design by Jack Spade.
With Select on Q - Eat, Business Class customers will also have more control over their dining experiences, allowing them a larger menu to choose from and the ability to select when they would like their meal delivered, all before they even board the plane. You can even choose not to get a meal at all if you're planning on sleeping the entire flight and wish not to be disturbed.
"Our premium customers traveling in Business have told us they want greater choice and the ability to maximize their sleep. That's why we've made these changes," says Hickey.