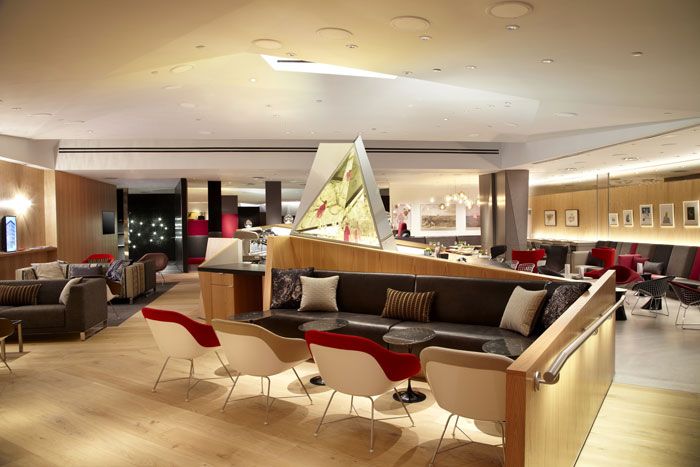 Photo Courtesy of Virgin Atlantic
Is there anything more dreadful than waiting at an airport? Nothing readily comes to mind. However, those dreary days are over for Virgin Atlantic passengers as this innovative company, ready to set the standard for
luxury air travel
, has just unveiled their brand-new Clubhouse at Newark Liberty Airport, which will be available for their business travelers.
Created by Slade Architecture (the team behind the award-winning JFK Clubhouse) and the in-house designers at Virgin Atlantic, this new Newark Clubhouse boasts comfort and elegance, combining NYC's style and energy with Virgin Atlantic's warmth. This swanky new space will feature a cocktail bar with crystal accents, a Liquid Lounge for pre-flight liquid courage and socialization, a 'Passion Pit' which offers private pods for naps (or for those suffering from Ambien-induced delirium), and an upscale brasserie featuring fresh and locally-sourced goods. Adding to the hip, secret SoHo bar vibe, the Clubhouse is also stocked with designer furniture and its own screening room.
"Newark has always been important to Virgin Atlantic – it's where we started with our first flight from London in 1984. We are confident that the new Newark Clubhouse will enable us to provide business travelers with a relaxed experience at the airport ahead of boarding their flight to London. We are now more committed to New York than ever, now with six flights daily from JFK and Newark to London and beyond – our departures are timed to seamlessly connect passengers on to our other destinations, including our latest gateway in Mumbai," explained Chris Rossi, Senior Vice President of Virgin Atlantic, North America.
The Newark Clubhouse is all part of Virgin Atlantic's ?100 million investment (approximately $160 million) in its Upper Class product and succeeds the stunning JFK Clubhouse that opened to rave reviews in March of this year.
We have to tip our hats to Virgin Atlantic for making flying with them not simply bearable, but rather enjoyable.