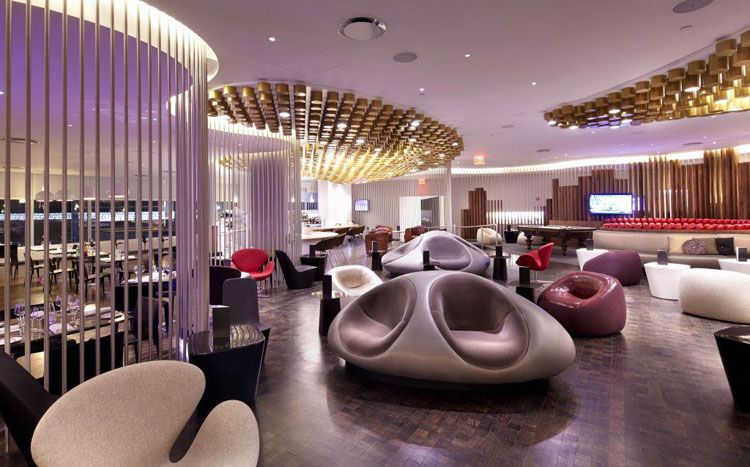 Photo Courtesy of Virgin Atlantic
Delta fliers should cross their fingers and hope the merger with Virgin Atlantic is approved by regulators. The deal was announced Tuesday and will allow Delta to strengthen its presence at Heathrow, among other advantages. Both airlines will continue to operate independently under their own names, but passengers will be able to book flights on both and earn and redeem miles reciprocally. Also, for the Delta Elite — access into
luxury airline
Virgin's famed Clubhouse lounges.
In a move to acquire a stronger foothold at Heathrow Airport, Delta is investing $360 million and buying a 49 percent share in Virgin Atlantic, however Virgin Group and Sir Richard Branson will still retain the majority stake. The partnership will allow UK customers easier travel within the States and vice versa for Americans. If granted anti-trust immunity, the two companies will rival American Airlines and British Airways for the Trans-Atlantic network.
Once the deal has passed, customers can choose from among 31 round-trip flights between the U.K. and North America beginning late 2013. Privileged passengers will share access to the Delta Sky Club and Virgin Atlantic Clubhouse, and all fliers are expected to benefit from a broader network and smoother connections.
Delta Airlines serve 313 destinations in 58 countries, and their transatlantic flights to Heathrow feature full flat-bed seating in BusinessElite and Economy Comfort seating with more legroom and the ability to recline. CEO Richard Anderson said, "By combining the strengths of our two companies in a joint venture, we can provide customers with a seamless network between North America and the U.K., and continue building a better airline for our customers, employees and shareholders."
Virgin recently added Cancun, Vancouver, and Mumbai to its destination menu, and upgraded its Airbus A330 with a new Upper Class cabin. In it are the longest fully flat beds on any airline. Also, JFK and Newark have been outfitted with new lounges so chic and mod that even Austin Powers would approve.
Winner of numerous awards, including a spot on the "UK Coolest Brands League," Virgin boasts the popular VERA touch screen, an in-flight entertainment system which should distract from any flying jitters.