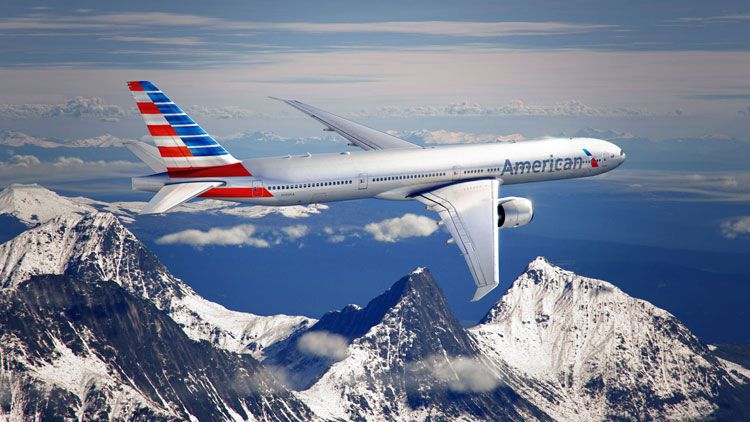 Photo Courtesy of American Airlines
At the cruising altitude of 34,000 feet, a shiny coat of paint might not do much to allay the fear of flying, but it improves the look of an
airline
nonetheless. After more than 40 years of operating under the same logo, American Airlines is sprucing up their fleet with an infusion of modernity and youth. Having ordered 500 new lighter planes as part of their effort to build one of the youngest fleets in the industry, this year will see the arrival of 60 of these, with the Flagship Boeing 777-300ER set to fly on January 31.
The arrival of new planes is a fitting opportunity to update the brand's visual. While still maintaining the core colors of red, white, and blue, for the airline, it was important to pick a scheme that adhered to their "silver bird" legacy. In keeping with traditional elements of their past, American painted the planes with a silver mica color, and the double A's on the tail have been replaced with red, blue, and silver stripes. The eagle logo has also been given a more streamlined makeover. American CEO, Tom Horton, says, "Since placing our landmark aircraft order in July of 2011, we've been building anticipation toward a moment in time when the outside of our aircraft reflects the progress we've made to modernize our airline on the inside."
Although no photos have been released of the new livery, they will be part of the cosmetic overhaul. Flight attendants, pilots, and maintenance workers will be given tablets as well, in an effort to improve performance with real time information. American will continue to offer in-flight wi-fi, in-seat entertainment and AC power outlets. The company is also expanding its network with added domestic and international routes. They fly 3,500 flights daily on nearly 900 aircraft with hubs in Chicago, Dallas, L.A., Miami, and New York.