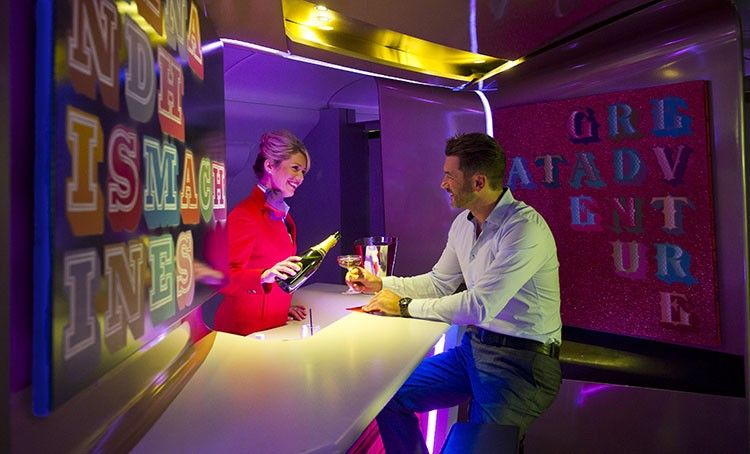 Photos Courtesy of Virgin Atlantic
Art-lovers travelling from London to New York are being invited to take part in a brand new way of acquiring fine art – purchasing it from a commercial gallery at 35,000 feet. Upper Class passengers on Virgin Atlantic will have the opportunity to view and purchase a series of one-of-a-kind paintings by renowned British artist, Ben Eine, all from the comfort of their seat.
The Gallery in the Air, which takes place February 1-28, 2013, aims to further enhance passengers' in-flight shopping and entertainment experience by taking the display and sale of fine art into uncharted territory. Each piece is inspired by the adventurous and innovative spirit of Virgin Atlantic, its entrepreneurial owner Richard Branson, and the iconic transatlantic cities of London and New York. The eye-catching canvases will be on display across the London Heathrow, JFK and Newark Clubhouses, and as passengers take their seats, they can take a virtual tour of the Gallery in the Air.
Courtesy of Virgin Atlantic
Eine is famed for his striking and cutting-edge street art style featuring vibrant and often controversial letters and phrases. He shot to international fame when UK Prime Minister David Cameron presented one of his works to President Barack Obama as a gift on his first official state visit in 2010, but is perhaps best known for "Alphabet Street" – the shutters and murals he painted in his trademark colors and typography in Middlesex Street, London.
"My philosophy through all my work, be it on canvas or on the street, is about pushing boundaries and not simply going with the flow because everyone else is doing something a certain way," says Eine. "I respect Virgin Atlantic's brave and challenging attitude and the way it goes against the grain, so I jumped at the chance to be part of the first ever Gallery in the Air. We have created a completely original way of appreciating and buying art – a new frontier for the industry."
Courtesy of Virgin Atlantic
In addition to the Gallery in the Air collection, and set to be on display at the London Heathrow Clubhouse, is a one-of-a-kind portrait of Virgin Atlantic founder Sir Richard Branson. Not for sale, the piece is built up of hundreds of pixels in a similar style to another of Eine's iconic pieces – a portrait of HRH Prince Charles, which resides on the side of a building in his hometown of Hastings.
"We like to do things differently at Virgin Atlantic and are always finding new ways to surprise and entertain our customers. Our new Gallery in the Air is the first ever commercial art gallery in the sky and is a good example of this," says Sir Richard Branson. "I am a huge fan of Ben's work and, like us, he does things differently and doesn't follow the crowd. We're delighted to be working with him, mixing things up a bit and having a bit of fun along the way."
Courtesy of Virgin Atlantic
The Gallery in the Air with Ben Eine is set to be the first in a series of unique on-board collaborations with renowned artists, and is the latest feature of Virgin Atlantic's Upper Class cabin that aims to enhance the passenger experience on long-haul flights. Long-haul travelers wishing to experience the Gallery in the Air's first exhibition, which will feature a collection of ten bespoke works of art priced between ?2,500 (around $3,947) and ?15,000 (around $23,686) in Eine's trademark typography style, are able to book seats now.
Courtesy of Virgin Atlantic