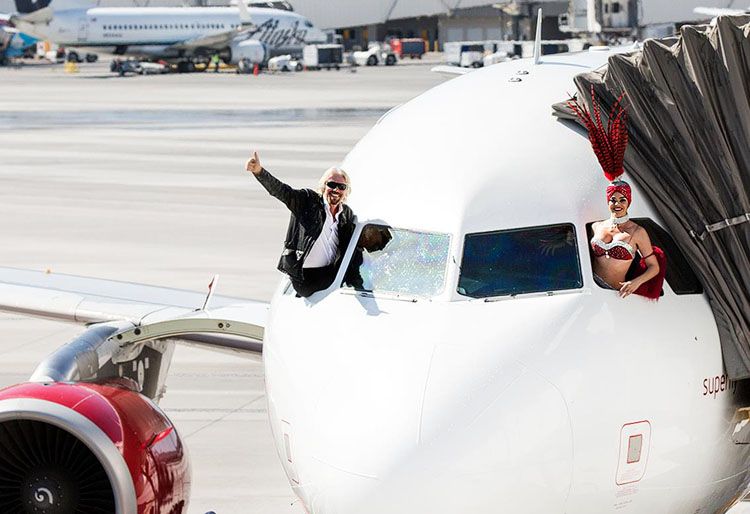 Photos Courtesy of Virgin America
Have you ever been in a bar with some friends and been sent a random drink from a stranger across the room? Even if you're not interested in the sender (maybe he has a face tattoo ? la Mike Tyson), it can be nice to be noticed and you have the option of getting out of there if things get weird. Now imagine that same situation while 35,000 feet in the air because Virgin America is taking meet cutes (those absurdly adorable movie moments where lovers meet for the first time) to a whole new level ? let's just hope you like the attention because you can't exactly hop off the flight as you could leave a bar.
Virgin America's
founder Sir Richard Branson knows that being the first to try something new is integral to staying on top of the airline dog pile and is now paving the way for flirtation in the sky. The new feature is called "Seat-to-Seat Delivery" and was announced on Monday with the help of a promotion video starring Branson that was posted on the airline's Facebook page. In the video Branson explains how to get lucky at 35,000 feet, including pinpointing the object of your desire and approaching "with a check for her favorite charity carried in the mouth of a puppy that you've given the power of speech to..." among other things. But if that approach is a bit too extreme of a come-on, perhaps the Seat-to-Seat Delivery system is a nice alternative.
Just how does this strange approach to flirting work? Just how does this strange approach to flirting work? First you use the airline's touch-screen system on the back of the headrest in front of you to bring up the flight's seat map and find the person you're eyeing. Once located, you can send them a cocktail, a snack, or a meal as a way to break the ice. Once a flight attendant delivers your offering you can follow up with the seat-to-seat text message service and hope they return your interest.
"Perhaps on the way to the loo that person can let you know if they fancy you, too," Branson told
CNBC
. If that sounds like a reference to the Mile High Club, Branson doesn't have a problem with it, adding, "Let me just say, we are not the sort of airline which bangs on the lavatory door."