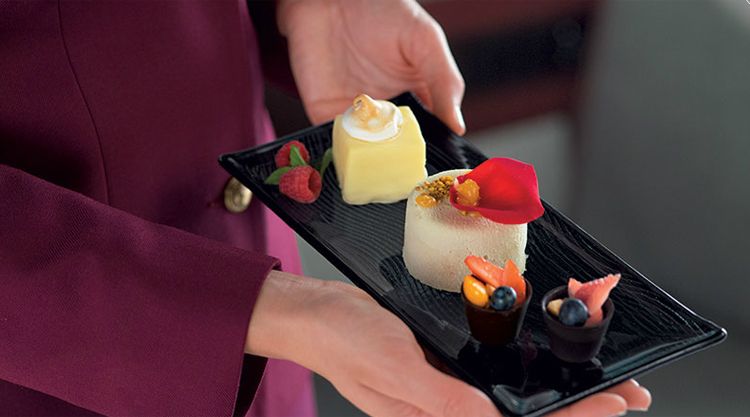 Photos Courtesy of Qatar Airways
We live in an amenity-rich time now, where flying through the sky simply isn't enough anymore. What used to fill people with wonder and excitement back in the Golden Age of Flight, just doesn't impress now. It's simple, we want more. With many airlines already offering a variety of wine and gourmet food, it seems only a matter of time before actual restaurants are incorporated. While not quite there yet,
Qatar Airways
definitely seems to be getting closer.
Chef Nobu Matsuhisa
Winning World's Best Business Class from the annual
Skytrax World Airline Awards
(they also won for Best Business Class Lounge and Best Airline Staff Service in the Middle East), Qatar knows a thing or two about excellent service. They even have four Master Chefs creating diverse menu items based on their individual backgrounds and cultures. Chefs Nobu Matsuhisa, Tom Aikens, Ramzi Choueiri and Vineet Bhatia not only spent months adapting their specialties for Qatar passengers; they also took into account how taste buds change at 30,000 feet. Each meal is paired with their list of wines and Champagnes, which are chosen by their international wine masters who meet twice a year in Frankfurt to blind test vintages from all over the world.
"I like to see my customers eating, drinking, smiling, and laughing. This is happiness," says Nobu. "Qatar Airways understands my philosophy. It's like a nice marriage, a balance in the food."
Chef Tom Aikens
Nobu is a celebrity chef from Japan who has a series of Michelin-starred restaurants all over the world, from London to Las Vegas. Michelin-star-winning Aikens has two London restaurants featuring British and French influences, while Chef Ramzi is one of the most recognized chefs in the Arab world, with a weekly television show and numerous books. Lastly, Bhatia is the owner of the London-based Rasoi restaurant, as well as a series of restaurants in hotels worldwide, and has two Michelin stars under his belt.
"Good service is just as important as the food. If passengers leave the plane with a positive lasting experience, that means a lot," says Chef Aikens.
The all-star team's transnational selections can be found on international flights in first and business class on Qatar's Boeing 787 Dreamliner.
Chef Vineet Bhatia
Chef Ramzi Choueiri