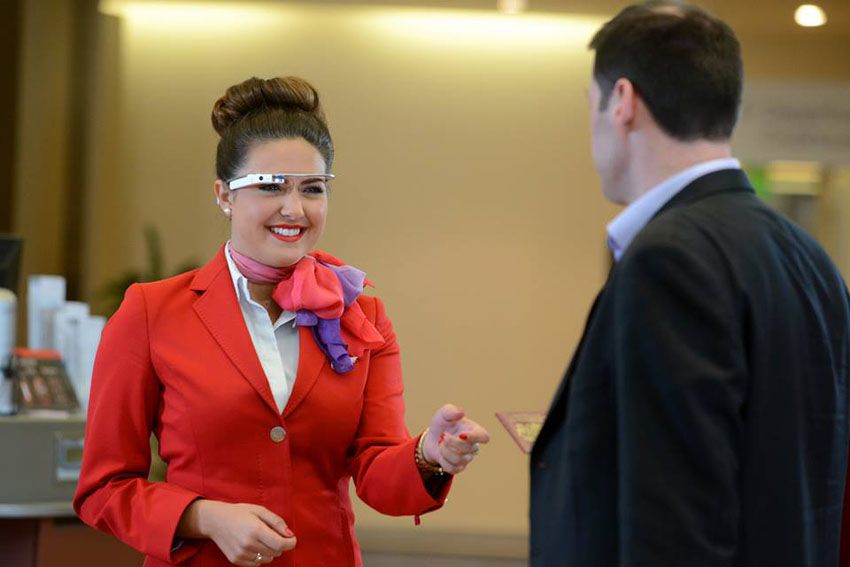 Photos Courtesy of Virgin Atlantic
Passengers making their way through Virgin Atlantic's Upper Class Wing in Heathrow Airport should notice a visible change to the concierge staff. The airline is launching a pilot program to offer highly personalized service by having the staff wear Google Glass devices. Looking to address the issues behind waning customer service in the airline industry, the introduction of Google Glass and other wearable technology is Virgin Atlantic's first step in their goal of helping the entire industry revitalize the legacy of stellar assistance.
By using the luxury gadgets, Virgin is aiming to greet every Upper Class passenger by name and immediately begin the flyer's check-in process. From there,the concierge will be able to provide real-time information regarding flight status, local destination events, document translation, and weather. With the technology involved in this pilot roll-out, all this and more will be possible without staff being required to access a computer terminal or handheld devices.
If the technology proves popular, Virgin is planning further dissemination later on. Still, it's reasonable to expect that guests could begin seeing exceptionally personalized service because of these devices, as information like snack and beverage preferences would be available to staff without having to ask. Instead of being asked, "Would you like a beverage?" we could see much more specified inquiries along the lines of, "Jeremy, how strong would you like your rum and Coke before boarding your flight to Amsterdam?"
However, even though the progression and implementation of this type of technology will directly result in better individualized service, it's easy to imagine that a number of passengers will loathe what they are likely to see as an invasion of privacy. Giving customers an option to opt out of the service may be something Virgin Atlantic will have to consider in the near future after further feedback is received on the program. Even with that being the case, we are excited to see where this type of tech and customer service moves to next.
We'd love to hear your thoughts and ideas on this innovative plan from Virgin, so sound off in the comments below!