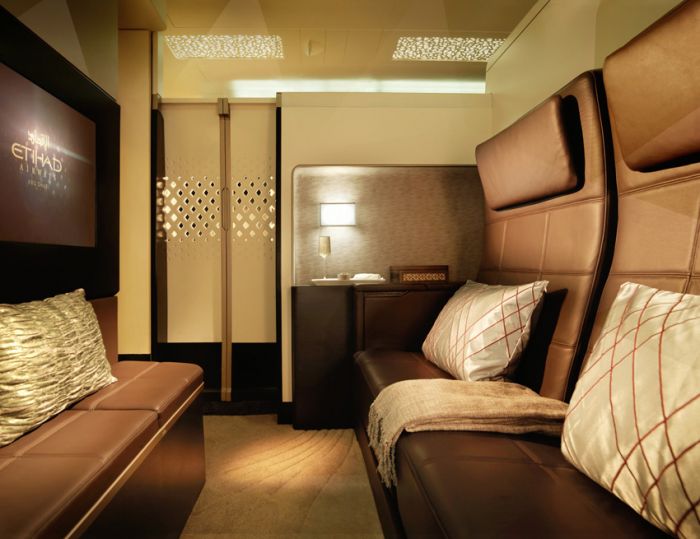 Photo Courtesy of Etihad Airways
Have you ever been in a first class cabin and wished you didn't have to fly with such riff-raff? (If you just nodded your head, is your name Madonna?) In that case, you are probably going to be very excited about this. Abu Dhabi-based Etihad Airways has created the new cabin to beat, "The Residence," and it's so above first class that we don't even know what to call it. The three-room Residence is more like an apartment than a cabin and will only be available on the A380 aircraft.
According to CNN, the cabin took Etihad five years to design and perfect. Since the whole bottom floor of the A380 is reserved for economy class, they were able to really devote the upper level to their premium customers. While first class is certainly impressive, with nine private suites with lounge seats, it's their Residence that wows us. Especially because there's only one and it's located in the nose of the plane.
Designed for up to two guests traveling together, the 125-square-foot Residence is literally a little three-room apartment in the sky. The living room comes equipped with a poltrono Frau leather double-seat massaging sofa with ottoman, two dining tables, a chilled cabinet for drinks, and a 32-inch flat screen TV. The bedroom has a natural fiber double bed with Egyptian cotton sheets and a choice of pillows — you can even have breakfast in bed. The ensuite bathroom (which is worth the price alone) has a shower, bathrobes, and exclusive products not available to anyone else.
Of course, Etihad wouldn't dare skip out on the pampering, which is why The Residence comes with a personal in-flight butler, five-star meals from an in-flight chef (offering custom menus on request), and limousine transfer.
It's currently available to book for a flight to London from Abu Dhabi and will cost you around $43,000. Considering this VIP offering is a dream-come-true for super high-profile celebrities and CEOs, we don't think Etihad will have a problem getting it booked.