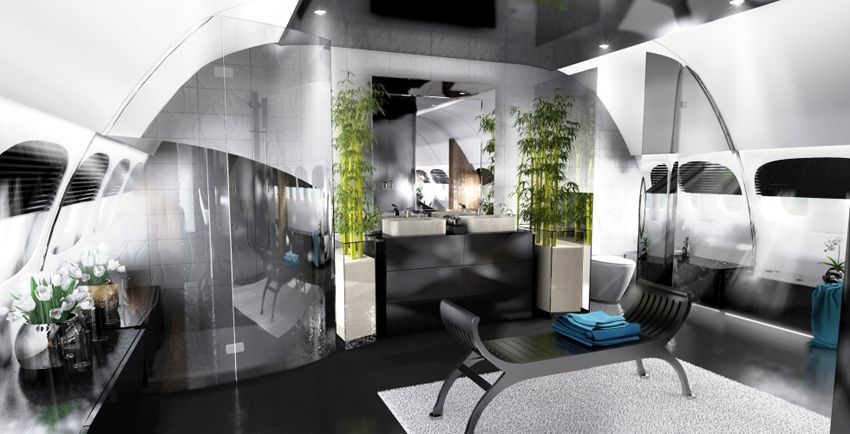 Photos Courtesy of VIP Completions Ltd.
Apparently the future of private jet travel looks like a luxury spa vacation and we love it. Created by VIP Completions Ltd., the design is being carried out in a Boeing 787-9 Dreamliner for a private client who wanted a water-inspired interior. Not only will the aircraft have a bedroom, en-suite shower, and cinema room, it will be "the world's first jet to have a bubble wall" that changes colors.
Called the VIP Dreamliner, the jet's interior "explores the different possibility that light and reflection provide — utilizing white, black and wide range of silver and grey tones together with shaped, reflective and textured material surfaces to create light and dark imagery and a modern contemporary interior." Swarovski crystals are featured, helping to create a dramatic mood that is paired with the flowing lines that inspire water.
Definitely the coolest feature, the bubble wall is synced with a smartphone app so the owner can control the backlit LED lighting to suit whatever mood that strikes. When the lighting is low, lights in the ceiling glow and highlight the Swarovski crystals on the ceiling, meant to resemble the night sky. We're sure this custom interior cost the client a pretty penny, but we wouldn't expect anything less.