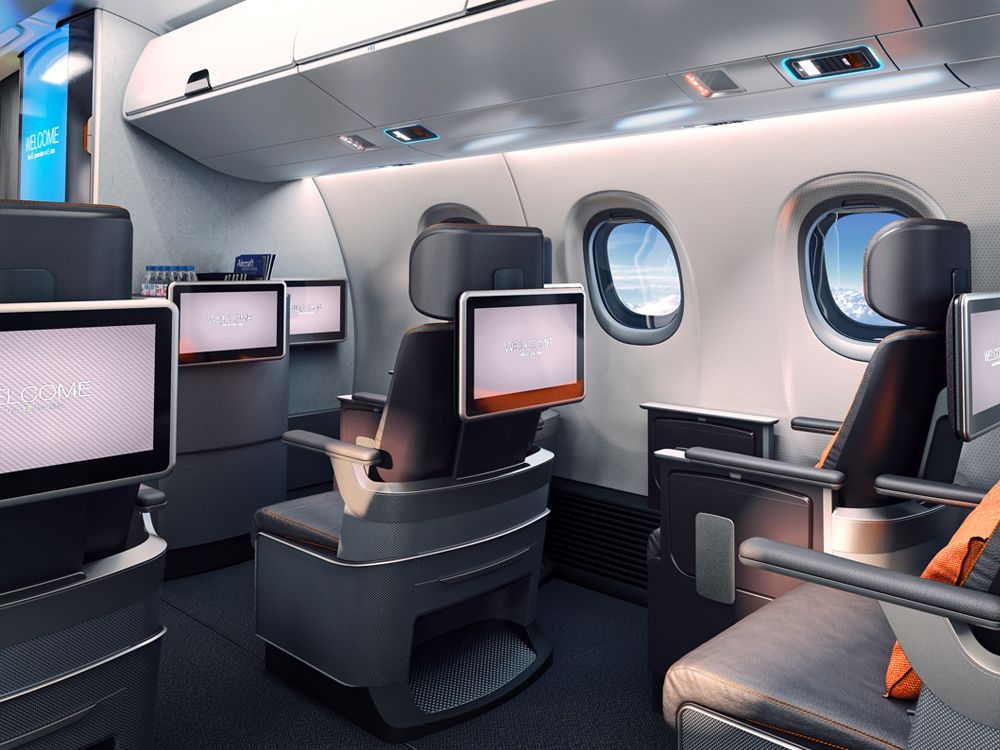 Photos Courtesy of Priestmangoode
London-based design studio Priestmangoode is pretty well known in the aviation world, what with their interior work for Turkish Airlines and Lufthansa, and their new single-aisle cabin concept gives fliers one thing they always want, more space. Created with Embraer for their fleet of E2 commercial jets, the overall mission was to design a cabin in a narrow aircraft that really set itself apart from competitors and the concept took everything into consideration, from the sidewall panels to the lavatory. Judging by their pictures and the design's ability to be configured to include Economy, Economy + and two First Class options, the design could end up being used by any number of Embraer's clients, which include American Eagle, Delta, US Airways, and JetBlue.
By giving customers more room, the company wants them to feel like they can "reclaim their own space" while flying onboard the E2 aircraft. The main way Priestmangoode intends on doing that is through their patent-pending passenger focused personal service units (PSU). The PSU is where you find the seatbelt call button, light, air nozzle, oxygen mask, and fasten seatbelt sign.
According to Wired, "most planes have a monolithic unit that spans all the seats in a cluster, which makes installation easier, but also limits the amount of space in the stowage area above it." Priestmangoode's PSU essentially gives more options as to how seats can be arranged, which gives 40 percent more bin space. The panel also sort of looks like an iPhone, which is pretty cool and on trend with current luxury gadgets.
The First Class seats are staggered to give tons of leg room and are positioned on the same seat tracks as the rest of the classes, which allows for customization. Plus, according to the brand, "using only one seat track for the whole cabin reduces weight, which in turn means greater fuel efficiency. It also means a simpler fit out and maintenance process."
Another notable addition is the acoustic curtains added to the lavatories. Inspired by luxury hotels, the design gives fliers more privacy and the mirror has been pushed back a bit to give more room—something everyone will be grateful for.
"Overall, the E2 cabin designs establish a new benchmark in the design of single aisle aircraft, delivering a more comfortable and improved environment tailored to passengers' needs, whilst maximizing airlines' operational efficiency," says Priestmangoode.
The new E2 jet is set to leave the runway in 2018.